SteelSeries H Wireless Review
|
What is the SteelSeries H Wireless?
The H Wireless is Steel Series' top of the range stereo, wireless gaming headset that is also just about the best headset I've ever used.
SteelSeries H Wireless | Features
The first thing to note about this headset is that it is positively dripping with features. Aside from multi-speaker surround sound just about every other possible headset feature – that I can think of – is catered for.
Most obviously, it's wireless, then there's the retractable microphone, removable battery, integrated volume control, second headphone socket and console chat input.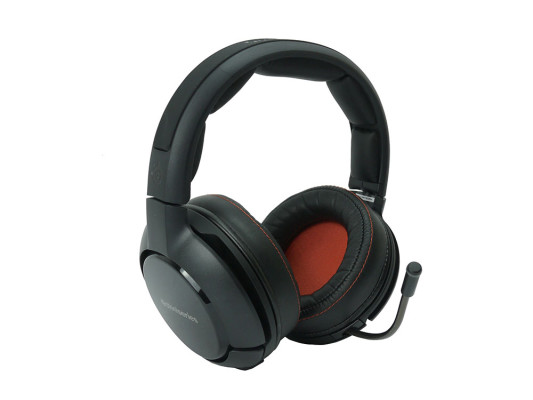 You also get a desktop USB transceiver that pulls the audio from your PC and throws it to the headset. This integrates volume and tone controls, has a battery charger slot and also has a plethora of other source sockets to accompany the main USB connection.
What's more, included in the box is a second battery (so you can have continuous listening) and just about every possible type of cable you could need (optical digital, Xbox chat, mobile phone, standard 3.5mm analogue, USB to mini USB for connecting to a computer) – there are even four different plug socket adapters for the charger (which should cover most countries).
It really is a kid in a candy store moment opening up the Steel Series H Wireless box and just marvelling at all the goodies you get, and when you're spending £200 on a gaming headset that is precisely the feeling you want to get.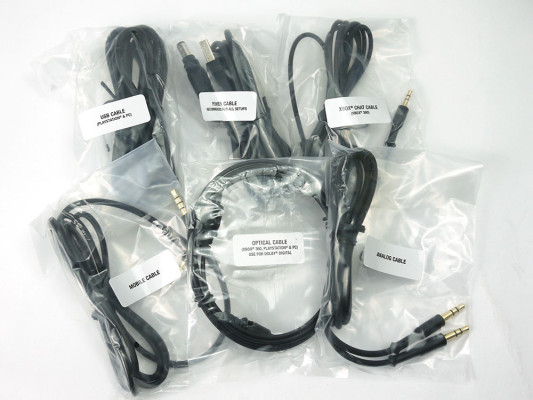 So is anything missing? Well, you don't get Bluetooth support for wirelessly hooking up to sources such as a phone or tablet – you can just use a provided cable for that instead – and as mentioned you don't get multi-speaker surround sound.
Although much derided by some, multi-speaker surround in headphones/headsets does actually work for competitive gaming and is superior to the digital equivalents for such use. That said, the digital versions – Dolby Headphone and Dolby Surround Sound, which are supported by the H Wireless – are good for creating a more immersive feel for films and games. For those that like to keep things simple, the H Wireless can just be switched to be a standard stereo set too.
SteelSeries H Wireless | The Headset

Despite all these features, the Steel Series H Wireless still conforms to Steel Series design ethic, which is of creating honed gaming tools that are free of fripperies. As such you won't find extraneous flashing lights or garish colours here. There's a subtle flash of orange on the headset but otherwise it's black, black and more black.
The headset design is pretty simple. Aside from the earcup linings and earpad stiching it's all black plastic – somewhat disappointingly, even the hinges. This is mostly matte in finish except for the earcup covers which add a bit of glossy glamour to proceedings. Said earcups are also round, rather than having a more elaborate shape. It's simple, perfunctory and it works well – I'd even suggest it looks kinda classy.
What really sets the headset apart from many rivals, though, is its feature set. Hidden in the left earpiece is a smart retractable microphone. Once deployed it isn't the easiest to adjust but I still managed to get it where I wanted relatively quickly, and it really is effortless pushing it in and pulling it out. Sound quality was adequate and the little ring of light to indicate it is on is a lovely tough.
On the right earcup is the power button, which also doubles as the microphone switch – hold down for headset on/off, tap for mic on/off. Alongside this are the sockets for plugging in a second headset/headphone for a second person to hear the audio you're hearing and for plugging in the Xbox 360 chat input (Xbox One support is still not ready).  Meanwhile the top edge has a multi-function volume/menu wheel. This defaults to simply adjusting volume (it uses a digital infinite-scrolling style wheel rather than an analogue volume like on the Turtle Beach Z300) but pressing it in it can also be used to adjust various other settings, which we'll come to later.
The final flourish of this headset, though, are its removable earcup covers. With a slight anticlockwise twist the left one can be removed to reveal the replaceable battery, which can then be swapped out with the spare one, again more on which later. Okay, it's only the left one that's actually interesting. Under the right one is just a mini USB socket that's used for firmware upgrades, but still it's a clever, tidy way of providing access to more features.
SteelSeries H Wireless | Comfort
Looking more closely at the ergonomics side of things, the headband is finished with a strip of thick rubber over its top edge, which I guess provides a bit of grip and knock protection, while on its inside are five fairly small pads of pleather-covered foam for cushioning.
The shape of the headband is an interesting one. It is slightly flat on the top with strongly curved ends, rather than a more uniform curve. Obviously head shape can vary considerably but certainly I found it wasn't the most snug fit.
In fact, the fit is a bit of an odd one as this is the sort of headset that clamps really hard to the side of your head. So much so that I found the headband was twisting itself to stretch wide enough. Earcup padding is also a little shallow.
This said, although you can certainly notice the headset all the time, unlike the floaty-light Sennheiser G4ME One or Q-PAD WH90 for instance, long term comfort is actually very good. Several multi-hour wearing sessions were not ended with a sorehead or ears.
The earpieces rotate to fold flat (though this doesn't really make the headset any more compact, and no carry case is provided so clearly portability isn't a key concern here) and go just past the perpendicular in the other direction, providing plenty of adjustment in that direction. The mounting arms also provide around 10-15 degress of movement to adjust to the slope of your head.
Build quality wise the edges of the earcup arms are a little sharp and a few of the plastic moulding seams are visible but this really is splitting hairs – overall the build quality is very good.
The only obvious ergonomics downside I did notice was the lack of any markings to show which earpiece is which. Although it's fairly self explanatory, given the presence of a microphone, it's still something that could cause a few moments of frustration – "he's on your left. No, your other left!"
SteelSeries H Wireless | The USB Transmitter

Although the H Wireless would still make for an impressive headset if coupled with a standard USB dongle, it's the included desktop USB hub that is its real boon.
This plugs into your PC via USB (or it can be powered by a separate mains charger) and acts as your PC's sound card as well as controlling the sound from the various other sources it's compatible with. Its other inputs are all ranged round the back and from left to right consist of a 3.5mm jack analogue input, 3.5mm jack chat output (for piping the audio from the headset microphone to a console headset socket), optical digital input and optical digital output.
This combination allows you to hook the H Wireless up to a PC or Mac, PS3 or PS4, Xbox 360 or Xbox One and indeed any other sound source that uses either a standard digital optical or line-level analogue output. In terms of simultaneous connections, you're limited to one USB, one digital input and one analogue input (i.e. PC, console and Hi-Fi) so connecting up all your consoles at once isn't an option, without a bit of re-cabling each time, but overall it's a very convenient system.
What's more, physically, although again it's all plastic, its a lovely looking thing. Its glossy sides and matte top really look the part and its rubberised bottom and sufficient weight ensures it doesn't skit around as you adjust volume or knock a cable either.
What really finishes the package off though are the front panel and the battery charger. The latter is a hole in the right side that allows you to dock and charge the second battery, so you always have a fully charged one to hand. It really is a quite brilliant addition that makes you question why so few headsets have done something similar before.
As for the front panel, as well as the volume knob cum menu button, it houses a back button and a lovely OLED display. The latter expertly shows volume control, various modes, headphone and docked battery levels and more. Because it's OLED the display completely disappears when off – always a cool effect – and has infinite viewing angles – it really is everything you could want for from such a display.
SteelSeries H Wireless | Setup
The H Wireless can be configured to run with PC and Macs, Playstation 3 and 4 and Xbox 360 and Xbox One and can also be used to pipe either analogue or digital music from any device with such an output.
For PC setup you just plug in the USB and away you go, though Steel Series does recommend always using the power supply for some reason, even though it's not required when powered over USB. For consoles, the setup is a bit more convoluted but fundamentally you can get it done on all the major ones. The only caveat is chat for the Xbox One doesn't work, but that's Microsoft's fault.
Setup is very easy in the first instance. The USB hub doesn't require a driver and can simply be selected as an output when plugged in to a PC and the headset and USB hub will be synced straight out the box.
However, to use multiple sound sources and setup all your preferences can take a bit of time. Before you can really get going you've got to choose whether you want Dolby Surround turned off (it's on by default) and select what Sources (inputs) you want to use – these have to be added one by one as they're all off by default.
On the flip side, this level of customisation means the system is always setup just as you like with all the menus only ever showing settings for the features you have turned on. The menus themselves are clearly labelled, intuitively laid out and quick to navigate with the simple push-for-yes volume wheel and back button.
There are options for several EQ settings – balanced, immersion, performance, entertainment, music, voice and custom – you can setup diferent profiles and even choose the brightness of the display.
Steel Series H Wireless | Sound Quality
So far, then, the Steel Series H Wireless has seriously impressed. However, if it has an Achilles heel it's its sound quality. That's to suggest it's bad per se but when you're spending over £200 on a headset, expectations are high, even if you're getting so many other features. As such to have to report that the H Wireless sound quality is simply 'okay for a headset' could be seen as a disappointment.
As ever, the main bone of contention is bass. Even selecting the 'balanced' EQ setting, bass response is rather hefty, somewhat drowning out other subtleties, particularly at low volumes. Kick drums and bass notes are really pushed out at the listener in a way that's more than a little distracting.
But what is particularly odd is that the bass doesn't even extend that far. Watching some of the battles between giant robots and aliens in Pacific Rim, for instance, felt a little flat as the lowest rumbles I was hoping for simply didn't materialise.
Soundstage is also fairly flat. Listening to Elgar's Enigma variations there was next to no sense of space and openness.
Of course the above is largely in reference to music listening, where the search for a more balanced sound is generally the requirement for audiophiles. However for gaming the H Wireless does come into its own.
Even with the Surround Sound setting turned off there's a surprising amount of positional information that comes across compared to a set of high-quality normal headphones. This is presumably just down to the the audio tuning which has been done to highlight certain game-centric sounds – it may make music sound mediocre but goes great guns with games.
What's more, turning on the virtual surround sound noticeably steps things up. As mentioned early, the positional sense isn't anywhere close to the level achieved with a proper multi-speaker headset but it definitely improves, expanding the soundstage and putting each gun shot or footstep that much closer to where it should be.
If you've ever been a sceptic of virtual surround sound this headset does a good job of showing just what it can do. On the flip side, going back to watching Pacific Rim, I didn't find it enhanced that experience anywhere near as much so it's not a miracle cure.
This is a closed back headset so there's a modicum of noise cancellation and no noise is blasted out to the room around you. I've certainly heard better in terms of passive noise attenuation though.
SteelSeries H Wireless | Verdict
The Steel Series H Wireless is one of the finest gaming headsets I've ever used. Its combination of features, including its superb USB hub and spare battery charger, makes for such a complete and convenient package – I really can't think of anything else I'd want in a gaming headset.
It isn't quite a slam dunk, however, as the headset itself isn't the most comfortable and, more importantly, although audio quality is excellent for gaming, it isn't anywhere near accomplished enough with music to make for a complete all-rounder. For a headset that costs over £200 that's a bit of a stumbling block. If you simply want the best wireless gaming headset around, though, then the Steel Series H Wireless should be at the top of your shortlist.