Corsair Strafe Keyboard review
|
A really good basic mechanical keyboard, with Corsair's clever programmable backlighting
The Corsair Strafe is a lower-cost alternative to Corsair's top of the range K70 RGB mechanical keyboard that drops the premium metal finish and multi-coloured backlighting in favour of a plastic finish and single-colour backlighting.
Corsair Strafe – Design
Corsair has built a pretty solid reputation for well-designed hardware that has just the right balance of simplicity and a nod to more garish 'gamer' hardware. This is something that's continued with the Strafe as it adorns its ostensibly plain rough black plastic exterior with strips of red lighting down the sides.
This red stripe (not the drink) theme is continued with the 'Lock' key indicators, which are thick, elongated lines, as well as the backing to the keys, which cleverly uses red plastic to enhance and disperse the red backlighting.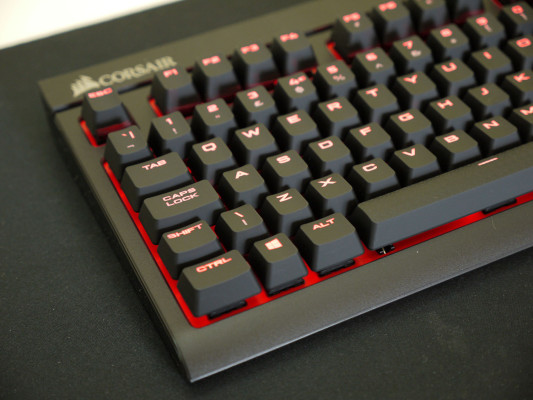 The overall effect is a to create a cohesive look that puts most other low-cost mechanical keyboards to shame.
It's a sturdily made bit of kit too, with it having little in the way of give when poked and prodded, plus it doesn't rattle. In fact, thanks to its hefty steel core it's actually heavier than the K70, despite the latter featuring a multi-millimetre-thick slab of aluminium on its top.
Corsair Strafe – Features
Features wise, there's not too much to the Strafe. It has no extra multimedia keys, volume wheels,  gaming keys or memory keys.
What you do get are buttons for adjusting the backlight brightness and turning off the Windows key. The right Windows key has also been replaced by a 'Fn'ction key that can be used to activate secondary functions on some of the F keys.
You also get a USB pass-through with the socket on the back next to where the keyboard's USB cable comes in. It's only a USB 2.0 socket, though, and you'll need to plug in the second USB plug that sits at the other end of the 2m cable.
Corsair Strafe – Installation/Software
The Corsair Strafe will work without any extra software but to get the most from it you'll want to install the Corsair Utility Engine (CUE) software.
It allows you to adjust a few key features of the keyboard, such as which media player software the media controls will control. It can also be used to record and assign macros, setup profiles for different games or programs, and of course its signature feature is its completely customisable programmable backlighting control.
Unlike any other keyboard currently on the market, Corsair lets you control every single key individually to create completely custom backlighting schemes and animations. Obviously on this monochrome keyboard you can't do quite so much as on the RGB versions but you can still do some quite sophisticated things.
The major downside is that programming the animations is about as time consuming as real animation! Thankfully Corsair has made things a little easier by pre-installing half a dozen or so basic animations, and you can easily download and install more from the Corsair forums.
As well as timed/looped animations you can have individual keys illuminate when pressed or set off a splash animation starting from the pressed key.
At the end of the day, the backlighting is more novelty than a useful feature – especially as the lack of colour variation means that key maps are next to useless – but it's definitely nice to have.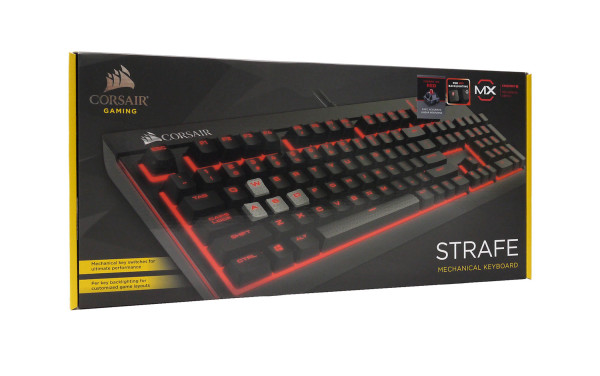 Verdict
There's a lot to like about the Corsair Strafe. It's nicely designed, well built and its programmable backlighting is a bit useful and a lot novelty. However, priced at around £100 it's just a little too expensive for the features on offer. Moreover, the K70 RGB is only about £20 more and it boasts a more premium design and that all important RGB backlighting, though you do lose the USB pass-through.
Corsair Strafe Tech Specs
Warranty – Two years
Weight – 2.02lbs
Key Switches – Cherry MX Red Mechanical
Keyboard Backlighting – Red LED
Dimensions – 448mm x 170mm x 40mm
Macro Keys – All Keys
Report Rate – Selectable 8ms, 4ms, 2ms, 1ms and BIOS mode
Matrix – 100% anti-ghosting and 104 Key Rollover
Keyboard Size – Standard
On-board Memory – Yes
Media Keys – FN key multimedia keys
CUE Software – Enabled
Cable Type – Tangle free rubber
WIN Lock – Yes
Keyboard Layout – UK, US, German