A superb high-end screen for gamers, but the low resolution limits its appeal
AOC C3583FQ Review
The AOC C3583FQ is one of this new breed of massive, curved, ultra-wide monitors. But unlike most, it uses a high-speed 160Hz MVA gaming panel rather than an IPS display. Along with the inclusion of Freesync, this makes it potentially the ultimate gamer's monitor upgrade.
What's more it's only £500, which compares to around £650 for the same style monitors with IPS panels.
There is, however, one massive compromise with this display, but I'll get to that shortly.
Right off the bat, it's obvious where some of the money has been saved in comparison to those £650 displays. The bezel here is quite wide and sticks out from the screen, whereas on the Philips BDM3490UC, for instance, it's really thin and sits flush with the screen.
Also, while the stand looks like it's finished in brushed metal and has a polished stainless steel stem, both are in fact plastic. The latter having a thin chromed finish to give a really shiny look.
In terms of features you also miss out on a USB hub and there's no height adjustment either, though in fairness the more expensive curved screens lack this too.
So what do you get? Well, you get a massive, curved 35in MVA LCD panel that absolutely fills your vision if you sit the normal 50cm or so away from your screen. Some people are not fussed about curved screens but unlike with TVs I do like the way curved monitors bring that extra width into your peripheral vision.
These screens can't quite replace three monitors in terms of field of view but they do come close.
The C3583FQ also has loads of connectivity, with two displayport and two HDMI, one of which support MHL for easy connection to your phone. You also get a DVI and a VGA port, for those that still use such things. There are also 3.5mm jack sockets for audio input and headphones. Any audio coming in via HDMI and displayport should play automatically but you'll need the audio in for the DVI and VGA inputs.
The monitor has a pair of speakers that are nicely hidden away in the incredibly shiny plastic back. They sound pretty good. There's obviously not much bass but they're reasonably clear and loud. You'll just need to make sure you plan to have the monitor backed up against a wall, otherwise the audio will just disappear behind the screen.
Setting this monitor up is simple enough thanks to it arriving in one piece. However, the lack of height adjustment is an issue as the monitor isn't all that tall to begin with, despite being so big. I had to resort to using a book or two to get it to a comfortable height.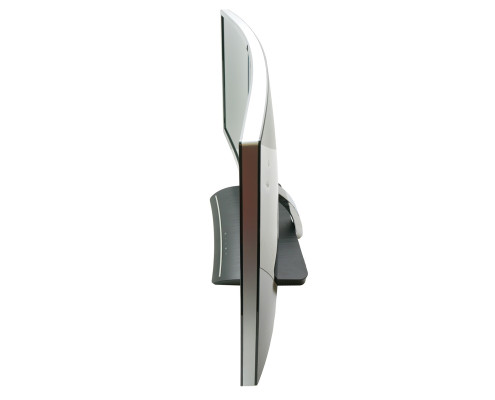 And this is important as these curved monitors do require you to sit fairly central to get the benefit. You can angle the screen up to achieve the same affect, but ideally you'll want to be looking straight ahead.
The on-screen menus are okay but the corresponding touch controls that run along the front of the base are not the easiest to use. The buttons don't align with what's on-screen and it's all too easy to hit the wrong one.
It's also annoying that you can't select the sRGB colour option and then adjust brightness, because that option is almost spot-on for colour temperature, gamma and other such settings but is far too bright. Instead I had to use the manual colour settings and here I found the screen needed a massive boost in the blue channel to get the right colour balance, and even then it wasn't perfect.
Otherwise, though, with a bit of tinkering the screen does offer good overall image quality. You get a nice strong contrast ratio of 1813:1 and 99.5% coverage of the sRGB colour space. Viewing angles are mostly pretty decent too. The image looks a little duller when viewed from above but largely colour and contrast stay accurate from within the normal field of view.
As for that high-speed 160Hz refresh rate, it wasn't quite as impactful as I'd hoped. The MVA LCD technology, although it offers better image quality than TN versions, seems inherently less quick to turn both on and off. So while the image does update quicker than a typical 60Hz screen, it always looks like there's a motion blur effect been turned on due to the lingering image. It's definitely an improvement over 60Hz displays but I never got the same sense of super snappy response I've felt from the best gaming monitors.
As for Freesync, or adaptive sync as it's more generically known, if you're not sure what it is, I've left a link in the description below to an article that describes it. For those who are familiar, here the impact of it is less than you might expect.
Because the monitor only takes around 6ms to update each frame, any stutter from repeated frames is far less noticeable than on 60Hz monitors where each frame lasts 16ms. As such, it's nice to have but far less of important than on 60Hz screens.
All of which brings us to the biggest problem with this monitor, which is its resolution. It only has 2560 x 1080 pixels, which may may sound like quite a lot, but on a screen this big it results in a pixel density of just 79pixels per inch. That means everything just looks kinda rough when sat at a normal viewing distance.
If you sit back obviously everything smooths out a bit but then not only does the screen fill less of your vision but you're negating the point of having a curved screen as you're no longer sat in its sweet spot. You can certainly get by with this resolution, and if your eyesight isn't that great to start with then you may welcome it but I for me it's a deal breaker.
For that resolution the screen either needs to be a good few inches smaller and at that point the curve starts to make less sense too. That said, if you really just want a massive, curved screen for gaming then the C3583FQ could suit some users and value wise it's not too bad, but for most people I'd recommend looking elsewhere.
Buy from Amazon
UK: http://amzn.to/1tgB8au
US: http://amzn.to/29iu9Vh
AOC C3583FQ Specs
| | |
| --- | --- |
| Monitor Size | 35 Inch |
| Screen Format | 21:9 |
| Brightness | 300 cd/m2 (type) |
| Contrast Ratio | 2000:1 |
| Dynamic Contrast Ratio | 50M:1 |
| Viewing Angle | 178/178 |
| Response time | 4 ms |
| Maximum Resolution | 2560×1080@160Hz |
| Connectors | D-Sub, DVI, HDMI, Display Port Input |
AOC C3583FQ Image Quality
AOC C3583FQ viewing angles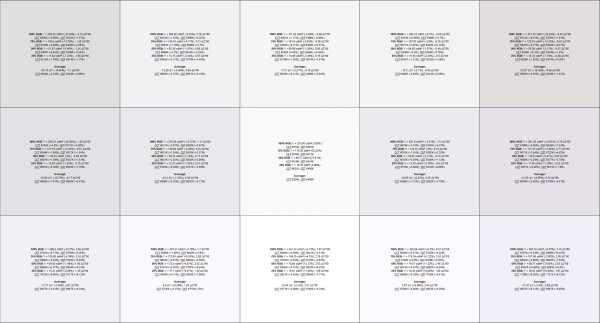 AOC C3583FQ display uniformity