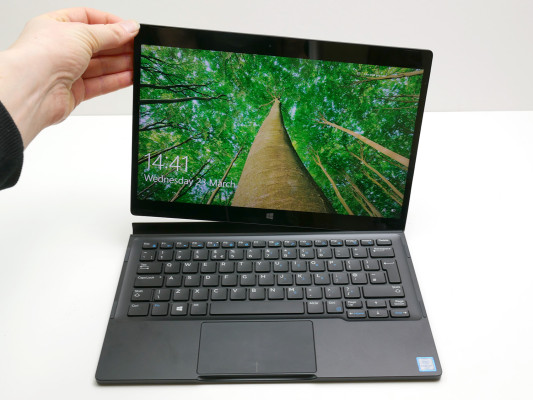 An ingenious hybrid Windows laptop/tablet
Dell XPS 12 Review
Dell's latest attempt at a hybrid laptop and tablet is the Dell XPS 12, a tablet and keyboard dock design that has an ingenious semi-folding mechanism, plus a truly laptop-class trackpad and backlit keyboard, and a top-spec screen. So has Dell finally cracked the hybrid formula?
Er, not quite.
What Dell has nailed is the design and build of this thing. Constructed from incredibly tough and light magnesium  alloy and covered in a matt black, soft-touch paint it looks and feels really nice.
The tablet itself is slim, at just 12mm thick, and weighs just 790g on its own, which is essentially the same as an iPad Pro. With the dock that only rises to 1.27kg, or about the same as a MacBook Air.
The whole combo is perhaps a little utilitarian looking but if you're a fan of that classic Thinkpad business-like vibe then this combo will be right up your street.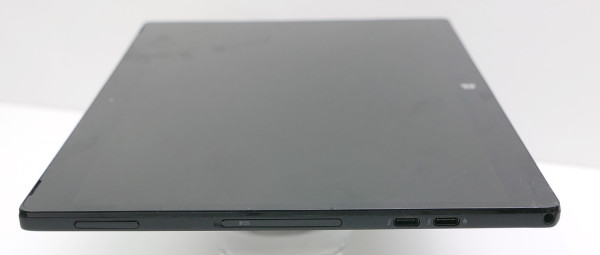 Both tablet and dock are pretty sparse when it comes to features, but not in a bad way. The tablet has a couple of USB Type-C ports that also have Thunderbolt 3 capabilities. One can be used to charge while the other can be used with all manner of adapters to connect to just about anything from other USB devices to video connections.
There's also a microSD slot, which you can either view as an easy way to read files from your camera's memory card or as way to expand the tablet's storage.
On the right edge is the power button and a Kensington lock slot for securing the tablet to a desk and on the left is the volume control. A couple of speakers are also hidden away in the top edge of the screen.
As for the dock, it adds nothing in the way of extra features – no extra storage, battery capacity or connectivity. It's just a keyboard and trackpad.
But when they're as good as this, I'm not complaining. This keyboard and trackpad combo is easily the best on any hybrid and they're even better than the vast majority of laptops.
The keyboard, while a touch compact, has an excellent layout, a decent amount of key travel and a nice defined action. Plus it's even backlit!
Meanwhile the trackpad has a wonderful etched glass surface and excellent tracking and its click-anywhere mechanism is precisely engineered. They really are class-leading.
Both get their power and transfer their data via the gold contacts that sit in the slot at the back of the dock. Drop the tablet in and the two automatically connect. There's no delay while the two wirelessly sync and no extra batteries to charge. Just dock the tablet and away you go.
The dock slot also has another trick up its sleeve. Through a combination of magnets and its clever shape, it allows you to close the tablet flat onto the dock like you were closing a laptop. Once closed, more magnets hold the two together. What's more, it works the other way around too.
You've got to be a little bit careful not to lift the tablet up completely, and every now and then the tablet doesn't quite nestle onto its gold contacts properly, but once you've got the knack it's pretty easy to get right most times.
There's also a magnetic, fabric-backed cover that has strategic creases in it to allow it to stay attached while the tablet is docked and upright or closed on the dock, and it even works when it's just the tablet by itself.
It's a great system, though it's a shame the angle of the dock isn't adjustable and that the slot adds such thickness to the overall package.
As for the tablet itself, it also has a class-leading feature in the shape of its 12.5in screen. While a 1080p option is available too, this top-spec version has a 4K resolution – that's 3840 x 2160 pixels – making for a very high pixel density of 352pixels per inch.
It also has generally excellent image quality and even boasts 100% AdobeRGB colour space coverage, so is potentially ideal for creative professionals. Indeed Dell is clearly targeting that market, just as apple has done with the iPad Pro. There's even an optional Stylus, a storage loop for which is included in the fabric cover.
Sadly the stylus wasn't provided for review so the onscreen drawing experience isn't something I can vouch for.
Thankfully this isn't a great hindrance when it comes to judging this tablet. That's because for all its design excellence and hybrid potential, it flat out fails when it comes to performance.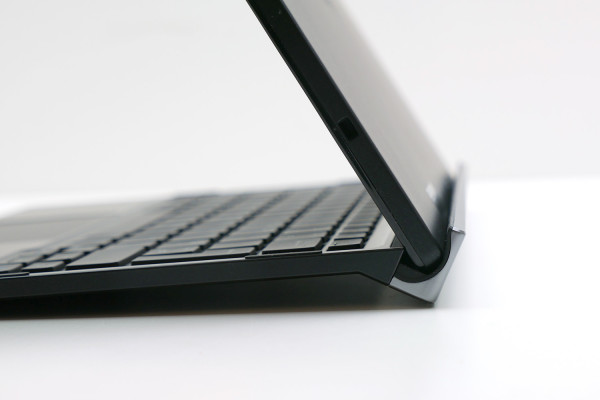 Okay, so the Intel Core M processors used throughout the range are okay for light use. If you're just web browsing, writing emails and watching video it's fine. But if the idea was to target professionals that may be drawing using professional software then they're right on the limit.
Given that the Microsoft Surface Pro range manages to squeeze in Intel Core I processors, I'm slightly baffled as to why Dell didn't do the same.
But really that's only a small part of the problem. The biggest stumbling block of all is battery life. It's simply atrocious. This thing barely lasts three hours with light use and brightness set to 40%. Working hard on a bright day this thing will struggle to last a couple of hours.
That's just not good enough. No ifs, buts or maybes. It's a total, instant failure. Devices like this are, after all, meant to be portable.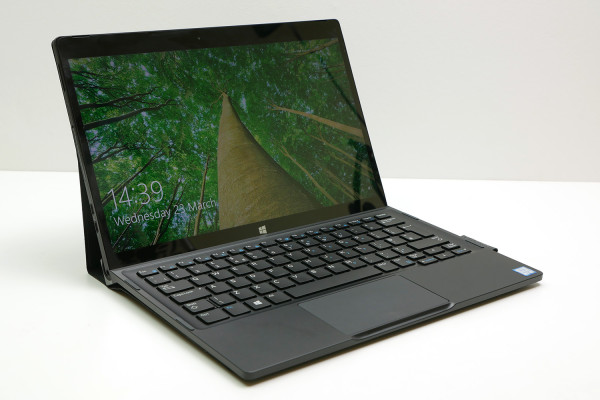 It's possible the cheaper lower resolution version has slightly better battery life but I can't imagine it would be that much better.
So while I could discuss how the XPS 12 has potential as a drawing tool, but struggles as a tablet due to running Windows yet excels as a laptop replacement because it runs Windows, at the end of the day its almost totally irrelevant in the face of such poor battery life.
Were it four or five hours, you're getting somewhere, but less then three?
So until Dell can revise the XPS 12 and at least double its battery life I can't recommend it. Especially when this top-spec version costs £1300.
Buy from Amazon
UK: http://amzn.to/1tgAVEe
US: http://amzn.to/29gNll5
Dell XPS 12 Specs
| | |
| --- | --- |
| Processor | 6th Generation Intel® Core™ M7 Processor |
| RAM | 4GB-8GB Memory |
| Storage | 128GB-512GB Solid State Drive |
| Graphics card | Intel(R) HD Graphics 515 |
| Display | 12.5in, 3840 x 2160 pixel IPS with 100% AdobeRGB coverage or 1920 x 1200 IPS |
| Connectivity | 2 x USB 3.1 Type C, microSD card reader, Noble Lock |
| Dimensions | 291 x 198 x 16-25mm |
| Dimensions tablet only | 291 x 193 x 8mm |
| Weight | 1.27kg |
| Weight tablet only | 0.79kg |
| Camera | 8MP front-facing webcam, 5MP user-facing webcam with dual array digital microphones |
| Warranty | 1 year Collect & Return Hardware Support included with your PC |
| Exterior Chassis | Magnesium alloy unibody construction with soft touch paint, Edge-to-edge Corning® Gorilla® Glass NBT™ |
| Keyboard | Full size, backlit chiclet keyboard; 1.9mm travel |
| Operating System | Windows 10 Home |
| Touchpad | Glass Precision Touchpad with gesture support |
| Networking | Intel 8260 Dual band 2×2 802.11ac 2.4/5GHz + Bluetooth 4.1 |