Dell Inspiron 13 5000 (5368) review
|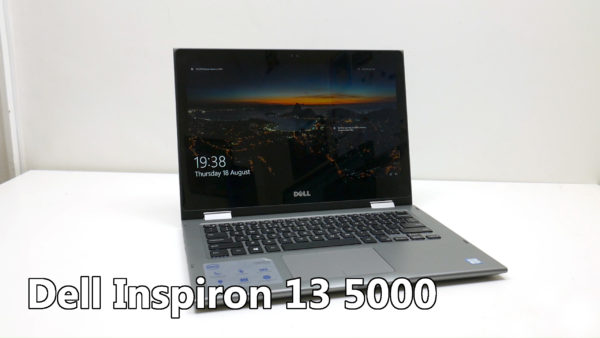 A decent convertible laptop with a fatal flaw
Dell Inspiron 13 5000 review
The latest iteration of Dell's Inspiron 5000 series of laptops sees both the 13in and 15in models morphed into hybrid devices with touchscreens that flip all the way round to create a large tablet.
It's hardly a new concept but this Inspiron 13 version combines that ability with impressive internal specs and a surprisingly low starting price of just £499. So in theory it could be quite the budget all-rounder.
Dell Inspiron 13 5000 video review
Budget isn't the first thing that springs to mind when it comes to this laptop's design, though. Yes it's all plastic but there's a business-like sleekness to this laptop that belies its low starting price. The gunmetal paint looks great and it's notable how Dell has cleverly kept visible as few seams and material transitions as possible. The top and its sides are one piece, as is the keyboard surround and its side, with just the removable bottom plate breaking things up. Even the heat exhaust has cleverly been positioned right on the edge of the body. The only things really breaking up the look are the rubber nubs that stop the screen hitting the keys.
This is also a fairly thin and light laptop, though it's not quite in ultrabook territory. Weighing in at 1.6kg and at 20mm thick, it's a good 20% bigger and heavier than those machines.
That slight extra bulk does get you a few extra connections, though. So you've got not two but three USB 3.0 ports and a full-size HDMI port, which is far more convenient than the mini or micro versions on smaller laptops. You also get an SD card reader and a headphone jack.
Joining them on the sides is the power button and a volume rocker. These allow you to lock and unlock the screen and adjust volume even when the laptop is in tablet mode.
Flipping back to a more conventional laptop layout, the keyboard is excellent. A good layout is joined by a nice responsive key action and you get backlighting with two brightness levels on offer. This review sample is a US layout but UK buyers will get a UK keyboard.
I've no complaints about the trackpad either. Sure it's only plastic but it offers a smooth gliding surface, perfect tracking and a precise, light click action.
So far so good then. But unfortunately, this machine has one fairly major flaw, which is its screen.
On paper it looks fine. It has a decent 1920 x 1080 resolution and uses IPS LCD technology so should offer good viewing angles. However, it's just not very good quality.
In particular, there's a grainy, shimmering quality to the image that's not just distracting but can sometimes make you feel like you're going a bit crosseyed as you try to focus on it. It's hardly noticeable viewed straight on but as soon as you move even slightly off axis it becomes quite obvious.
What's worst is that it's most noticeable when viewing solids blocks of white, which makes reading the vast majority of text a bit of a challenge.
However, for watching video or viewing pictures, it's not too bad, and in fact colours look reasonably accurate and the great contrast ratio of 1200:1 means pictures don't look grey and washed out but have a nice punchiness to them, and viewing angles are indeed pretty good.
Nonetheless, add in the fact that maximum brightness is just 250nits – that's about a hundred less than I'd ideally hope for – and that the glass touchscreen is just a little bit reflective and you have a screen that's well below what you'd expect for a £799 machine, which is the price of the model I'm looking at.
It's a shame as the 360 hinge works well. You can easily position the screen at any angle and it'll happily stay there, and it seems reasonably sturdy. I'm still not entirely convinced that these machines offer all that much over conventional laptops but there are occasions when being able to hold the screen in an odd position and still be able to navigate using the touchscreen is quite useful.
Overall performance is perfectly decent too. All three configurations, from £499 to £799, feature an Intel Core I 6000 series processor so it'll cope with any day to day computing, whichever model you choose, and this higher spec model has plenty enough oomph for more challenging tasks too. Meanwhile the two more expensive options have a nice fast 256GB SSD as well.
Battery life is also pretty much on par, with it managing 6hrs and 26mins. Conventional thin and light laptops will generally last an hour or two longer but the touchscreen on these hybrids does tend to reduce life a little, so it's not too bad.
All of which means this laptop was on course to be a pretty decent option. Its design may not have premium materials but it still looks great, plus you've got that great keyboard, trackpad, performance, battery life, and even the speakers are a step above entry level laptops.
But that screen just kills it. Certainly the most expensive £799 version has way too much competition with vastly better displays. The £649 option might just about strike a decent balance if you don't mind the screen's particular idiosyncrasies. Meanwhile the £499 option would actually be great value if it kept the same screen, but it drops to a TN panel and has a hard drive rather than an SSD.
So all told Dell has kind of slipped up here. Just a slightly better screen and this would've been a decent enough option but as it is I can't really recommend this laptop in any of its configurations.