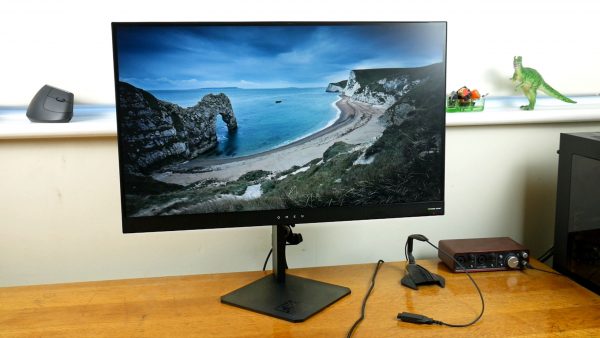 The most stylish 27inch gaming monitor, and a top quality one too
Omen by HP 27 review
The Omen by HP 27 may have a silly name but this is a serious gaming monitor. It can refresh at up to 165Hz, it has a 1ms response time, it's got a 2560 x 1440 resolution, it's got G-Sync and it has one ace in its pocket. A fantastic design.
This is easily, in my humble opinion, the best looking 27-inch gaming monitor you can buy. It earns this title both with the obvious stuff like the slim, low-profile bezels round the top and sides of the screen, the slender solid metal stand and the uniform matt black finish along with plenty of more subtle details too.
The fetching triangular pattern on the back, the flush buttons for the onscreen display controls, and the perfectly angular choice of font for the Omen lettering. It's just pure class.
Omen by HP 27 specs
Screen size: 27inch
Resolution: 2560 x 1440
Panel type: TN
Maximum refresh rate: 144Hz (165Hz overclocked)
Response time: 1ms
Inputs: DisplayPort 1.4, HDMI 2.0
Stand adjustability: Height, tilt
Adaptive sync: G-Sync
Extras: 2 x USB 3.0 ports, headphone stand
Buy now: Amazon.co.uk,  Amazon.com
Omen by HP 27 video review
I'm even a fan of the light that shines down from the display and illuminates the Omen logo on the base. You can set it to whatever colour or brightness you want and even have it change colour in accordance with what's on screen. Like all the other such lights, it is a gimmick, but at least here it looks good.
As well as being so stylish, this monitor is reasonably practical too. The stand offers a wonderfully smooth height adjustment and tilt as well as a headphone stand at its top. The latter seems like it would be rather awkward to reach, but it's easier to use than you might think.
The supplied stand doesn't offer rotation or pivot so plugging in your cables and positioning the screen isn't as easy as on some displays, but it's not a deal breaker, even if every competing screen does offer these features.
You can also remove the stand and slot in a supplied 100x100mm VESA mount so you can use an alternative stand or wall mount.
On the connectivity front, you get just one DisplayPort and one HDMI. This being a G-Sync display, HP wouldn't have been able to add any extra inputs even if it wanted to.
There's also a USB hub with two USB 3.0 ports on the back and a headphone jack on the left edge. It would've been nice to have a couple of ports on the side but again it's not a deal breaker. You don't get any speakers.
As for those onscreen display controls, they may look neat, but they're not the most practical, with it taking a fair amount of feeling around to locate them.
The way they work isn't all that intuitive either. The order of the buttons seems exactly the wrong way round to what you'd expect. Plus, the menus themselves are also a little clunky. For a start, it's a bit odd that brightness is called luminance and the setup menu is called management. Then there's the more troubling fact that there simply isn't a contrast or gamma setting.
The way the colour controls and presets works is confusing too. There seems to be overlapping presets for colour balance and viewing modes. Select a viewing mode and it overrides the colour balance setting and vice versa. If you then adjust any other settings, it automatically changes to a custom viewing mode anyway.
All of which means it's a good thing this display doesn't need much setting up. Out of the box it delivers good enough image quality that the only settings most users will want to change are brightness and the various gaming settings.
These consist of the option to Overclock the display from 144Hz to 165Hz, a DarkBoost feature for making it easier to see enemies in the dark, a whopping six different response time settings and ultra low motion blur. As ever, the latter doesn't work in conjunction with G-Sync and is limited to 120Hz, though it definitely does reduce motion blur.
Regarding the overclocking, it works but isn't really a major selling point. The upgrade over 144Hz is so minimal as to be undetectable.
So we come to this displays screen and its image quality, and the first thing to note is that this is a TN-type LCD panel so of course viewing angles aren't great.
You also get the issue of some colours becoming a bit indistinct. This is most noticeable with the light grey colours used to mark out menus in many programs. At a normal viewing angle they lose their definition.
Such is the compromise of opting for a TN-type LCD display rather than IPS or VA.
Otherwise, this display does well. There's minimal backlight bleed and overall colour balance, contrast and gamma are all fine. You could quite easily just drop the brightness and not have to change any other settings on this display.
Notable is that the panel uses 8-bit colour processing so is better at picking out fine differences in colour than cheaper 6-bit displays. This puts the Omen by HP 27 on a par with the likes of the Asus PG278Q and Dell S2716DG.
As for gaming performance, again, we're talking about a very similar level of performance to those two screens. The 1ms response time, 144Hz and G-Sync work together to provide a fantastically responsive, experience.
There's also a whopping six response time settings to choose from, so you can really dial in just how much ghosting and inverse ghosting you want.
All in all, this display delivers exactly the sort of performance you'd expect given its spec sheet. It's a good quality, 27-inch TN-gaming monitor. In fact, combined with its fantastic design, I'd say it's one of the best.
It's just a shame about the price. It's consistently £100 or $100 more expensive than the likes of the PG278Q and Dell S2716DG, and they're already quite expensive monitors.
If this display offered the better overall image quality of an IPS panel for that price then it would be a different matter but for a TN gaming display, the Omen by HP 27 feels a bit expensive.
Omen by HP 27 Image Quality pre calibration
Max Brightness: 414nits
Contrast: 777:1
Colour Temp: 6861K
Gamma: 2.08
sRGB: 91.3%
DCI-P3: 74.2%
Delta E Ave: 0.26
Delta E Max: 1.88
Omen by HP 27 Image Quality post calibration
Contrast: 865:1
Colour Temp: 6710K
Gamma: 2.08
sRGB: 91.8%
DCI-P3: 74.9%
Delta E Ave: 0.26
Delta E Max: 1.58