Apple documents reveal concern over iPhone sales and Android competition
|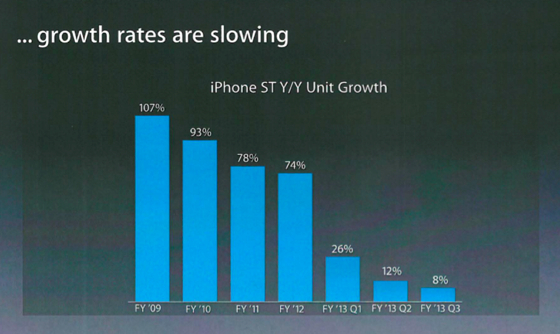 Internal Apple documents from last April reveal the company was scrambling to identify ways to compete with Android phones as well as keep sales of iPhones from declining.
The documents were revealed in a court session during a trial which is seeing Apple sue Samsung for patent infringement. They were referenced as Apple marketing chief Phil Schiller was being cross examined.
Schiller downplayed the presentation, saying it was for an off-site meeting with "a few sales people" and not something that he attended.
However, the document is nonetheless fairly damning. It notes that smartphone growth rates are declining and that this could impact iPhone sales. What's more it discusses that there is growing consumer interest for less expensive, larger-screened smartphones, with a headline on the page reading "consumers want what we don't have."
Samsung's attorney Bill Price also referenced another page of the document that said it was a "switchers battle in developed markets," and that "in two years, our target Android switcher will be used to a display with much larger than four inches."
Apple's iPhones are still stuck at a 4in screen size, compared to around 5in for most competing flagship Android phones. In many circles the debate is still ongoing as to whether bigger is actually better but expected popularity of the HTC One M8 and Samsung Galaxy S5 show that the mass market is definitely moving in that direction.
There is again rumours that the iPhone 6 will indeed be larger and possibly be available in two different sizes – or possibly the iPhone 5C will continue with a smaller screen. Whatever the case, they're expected to be announced at the next Apple WWDC in June.