Asus ROG Swift PG348Q review
|
Possibly the finest gaming monitor you can buy
Asus ROG Swift PG348Q review
The Asus PG348Q is, on paper, the ultimate gaming monitor you can buy right now. It combines every possibly feature that you could want, including a massive 34in, widescreen panel that's curved and uses IPS technology, plus it can run at up to 100Hz and has G-Sync. Some smaller gaming monitors can run at even higher refresh rates but otherwise there's literally nothing else available now that you could add to this display.
The question is, does that make it worth its £1000 asking price?!
Asus ROG Swift PG348Q video review
Well, Asus has almost fallen at the first hurdle as the design is potentially a bit divisive. For the most part the sweeping curve of the panel, the slim bezels and slender metal legs give it an elegant and premium look. However, the faux brushed metal trim at the front, the circuitboard design on the back and the copper painted sections might not be to everyone's taste. It's certainly not out and out ugly but neither is it exactly a safe option.
Oh, and then there's the light.
Shining down from the bottom of the stand and onto your desk, it's… well it's certainly striking. However, It's a bit much for my liking. I prefer the more subtle approach used on the PG279Q.
Thankfully, you can adjust the light's brightness and I adjusted it all the way to off.
Otherwise, though, this is a display that looks and feels quality. Those legs are solid metal and the stand offers a sturdy platform with smooth adjustments for rotating the display and adjusting its height. The tilt motion is a bit stiff but it's easy enough. You can't spin it into portrait mode, though, which if nothing else does make plugging in cables more awkward.
One thing to watch out for is that if one of those legs comes off the edge of a table the whole display will come tumbling down. It's pretty unlikely as it stays pretty secure even when knocked, but it's something to bear in mind if the desk you'll be putting it on is open at the back or if it's in a generally busy area where the screen might get knocked. In comparison a stand with flatter, larger feet will be far less prone if it gets knocked.
A little bit of assembly is required to get this display up and running, with it arriving in three parts. However, there's no need to grab a screwdriver and all the pieces fit together easily, so it's pretty effortless. You'll just need to be careful not to lose the two little thumbscrews. If you do want to do away with the stand altogether there is also the option of a VESA mount.
As for connectivity, it's okay but certainly not outstanding. This being a G-Sync display it's limited to just one DisplayPort and one HDMI so those hoping to use this as a single screen for multiple computers or games consoles will have to invest in an HDMI switcher.
Also just about adequate is the USB hub. You get four USB 3 ports but they're all situated on the back, where they're pretty inconvenient to reach. I'd have preferred to see a couple of these on the side.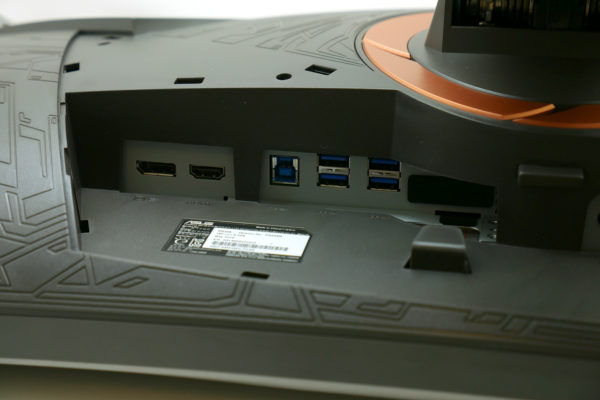 I've few complaints when it comes to setting up this display, though. First, because it comes straight out of the box with excellent image quality and second because the onscreen display is fantastic. It uses Asus' signature joystick system for navigation and it's just effortless to quickly move around.
There are quite a lot of options and extras that I didn't find of much use, and in fact some of them made things a bit confusing, but, again, with it arriving so well setup there's little need to worry about them. The only thing you will have to do is enable overclocking so you can run it at 100Hz, as by default it's set to just 60Hz.
I was intrigued to see if the overclocking actually affected image quality so tested at both 60Hz and 100Hz but found the results to be essentially identical so there's no worry you're compromising image quality for speed.
And what image quality it is. Across the board its right up there with the best for colour accuracy, contrast and fine colour gradation.
Combined with the inherently good viewing angles of the IPS panel you have a rock solid, accurate looking image. There are better screens for pure colour accuracy and contrast but only really from panels aimed squarely at professional imaging use.
Add in the 21:9 aspect ratio and huge screen size and it really is quite something to behold.
This is most felt when gaming, where the extra peripheral vision and curved panel gives you a real wraparound sensation and competitive advantage. Crank the screen up to 100Hz and turn on G-Sync and, well, it really is as good as you can get, assuming your graphics card can cope with the resolution and frame rate.
Even the speakers pack a half decent punch.
All this said, I did find this monitor looked just a little grey and washed out when watching movies, no matter what settings I changed, at least compared to my day to day Viewsonic monitor.
It's certainly still very watchable, and according to test data it performs well, but I'll be intrigued to see if the Acer X34 performs differently when I get it in for testing next week.
Also, it's watching movies where you're most likely to notice the slight backlight bleed from the corners and any IPS glow when viewed off axis. Neither are much worse than any other display of this calibre but compared to a good plasma TV, for instance, I know which I'd rather watch a movie on.
In summary, then, I am pretty blown away by the Asus PG348Q. It absolutely delivers on its promise of being the one monitor that does everything, and the premium it is demanding isn't too bad for such a standout product. It's just a shame no-one has made an equivalent display running Freesync as it would likely be markedly cheaper.
Otherwise, if you are happy to compromise and drop G-Sync or the curve or the 100Hz refresh rate then I'd absolutely recommend you do so as you can save huge amounts of money. For instance, the AOC U3477PQU is under £500. But, if you simply must have it all then the PG348Q definitely delivers.
As for this monitor's big rival, the Acer X34, I should be looking at that next week so hopefully will be able to tell you definitively which is the one to get.
Asus ROG Swift PG348Q Specs
Screen Size: 34in
Panel type: IPS-type (AU Electronics MHVA)
Resolution: 3,440 x 1,440
Ergonomic Adjustments: Height, rotation, tilt
Panel colour depth: 8-bit
Colours: 1.07 billion
Video connections: 1 x DisplayPort, 1 x HDMI
Other connections: 4 x USB 3.0
Curved?: Yes
Dimensions:
Weight:
Extras: ROG logo projected from bottom of stand
Asus ROG Swift PG348Q Image Quality Test Results
Asus ROG Swift PG348Q uniformity