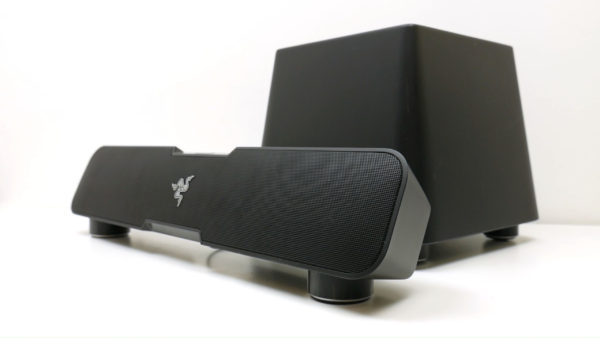 Virtual surround and Bluetooth make this a great soundbar
Razer Leviathan review
The Razer Leviathan is a virtual surround sound bar and sub woofer combo that provides a huge boost to your PC's audio performance and can connect to your phone via Bluetooth too.
Available for £170, it's relatively expensive for a PC audio solution, which begs the question. Does it have the performance to justify the price.
Now, the first thing to note about the Leviathan is the great irony of Razer, a company that's renowned for building PC peripherals, choosing to design a sound bar as its only speaker system. Yes soundbars are great for TV audio but they're arguably the least optimal choice for use with PCs.
Razer Leviathan video review
For my particular setup there is simply no room at all for it on my desk, while I'm sure plenty of other buyers will find cables and monitor stands get in the way, even with there being a small cutout section on the bottom to allow cables through. In contrast, two separate speakers allow for far more versatile placement. You can at least wall mount the Leviathan, though.
When it comes to styling, Razer seldom gets things wrong and largely the Leviathan continues that trend. The minimalist black plastic finish, metal front grill and subtle Razer logos all work well and the machined aluminium feet are a nice finishing touch.
However, I would've expected a slightly more premium finish to the outside. Maybe a soft touch plastic, rather than this generic hard matt plastic. The little glossy plastic section in the middle and the mass of buttons behind also look just a little cheaper than I'd hope. Also, I'd prefer to see something protecting the bass speaker on the underside of the sub. It's unlikely to get damaged in use but it would be easy to poke a finger through it when picking it up.
Setting up the Leviathan is very easy. Just three cables are needed, with the mains power coming straight to the soundbar, a cable leading from the soundbar to the sub and you get a choice of either an analogue 3.5mm jack or digital optical audio inputs, cables for both of which are included in the box.
Notably, though, there isn't a USB input so this is not an ideal solution for laptop users, unless you're happy sticking to the analogue input.
You can also connect to the Leviathan via Bluetooth. It supports the higher quality AptX codec and setup is as easy as you'd expect.
Where things get a bit more complicated is the rest of the soundbar's controls. The central power button is clear enough but the seven buttons behind are very small, and because of the angle the soundbar sits at you can't see them when sitting down.
Were there just a couple of volume buttons it wouldn't be such a hassle but with input selection, Bluetooth, dolby virtual surround, mute and EQ to choose from it's definitely not ideal.
This applies double as I found the Leviathan works best when switched between its various modes.
Surround sound on for games and movies but off for listening to music. Thankfully I found the Music EQ was my favourite for all types of listening so that was one less thing to worry about.
And how does the Leviathan sound? Pretty good. The sub woofer packs a real punch, despite being passive and only 30W total output while the soundbar provides good clarity and plenty of treble volume. Its four speakers and own 30W output also do well at bridging the gap between the lows of the sub and the highs of the soundbar, without loosing too much mid-range, which can often happen with 2.1 speaker systems.
The overall presentation is definitely more fun and bombastic than audiophile but it's great for gaming and movies and does justice to most music types too.
As for the virtual surround sound, it works well, adding depth and immersion to movies and games. It doesn't provide pinpoint accuracy, and thus the competitive advantage, of true surround sound, but you can always fall back on headphones for competitive gaming.
However, by default there is too much bass for my liking, and adjusting this is far too fiddly.
All told then, the Leviathan largely lives up to its price tag. It's stylish, powerful and reasonably versatile. But a few things let it down. With a slightly better control system, the addition of a USB input and a slightly more premium finish and it would be great. As it is, it feels just a touch pricey for what it offers.