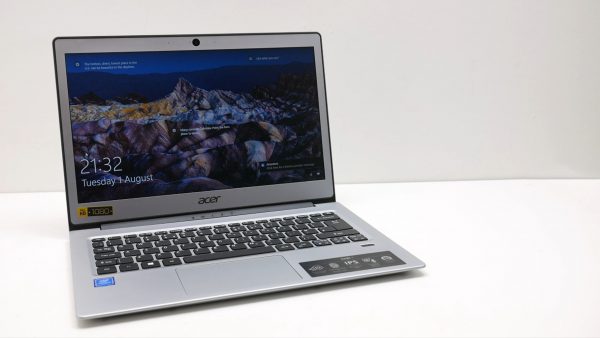 The best laptop under £350
Acer Swift 1 review
The Swift 1 is the cheapest option in Acer's all-metal, thin and light Swift laptop range. With a starting price of just £350 it inevitably has some compromises but it still represents astonishing good value.
The single most obvious plus point with this laptop is its design. Getting any metal in a laptop of this price is impressive enough but here the whole thing is made of wonderfully tactile sandblasted aluminium.
The internal frame of the laptop is still plastic so you don't get quite the solidity of more expensive laptops but largely you still get the great look and satisfying feel that you'd expect.
Acer Swift 1 video review
In fact, I actually prefer the look of the Swift 1 to the more expensive Swift 3, and its lack of chamfered edges makes it nicer to handle too.
Also impressive when it comes to this laptop's build is how slim and light it is. It's just 15mm thick and weighs 1.4kg. Combined with a footprint of 320 x 225mm and you have a laptop that's easily portable enough that you can take it anywhere with you.
Connectivity also impresses. A full size HDMI, two USB 3.0 ports, a USB Type C and a headphone jack run down the right side while on the left is an SD card slot a USB 2.0 port and a Kensington lock slot. You might miss out on the fancy ThunderBolt charging of a Macbook but otherwise this is a far easier machine to live with in this regard.
The screen is another area where this laptop belies its price. It's an IPS LCD panel so you get minimal deterioration in image quality when viewed from different angles and it has a matte finish to keep reflections at bay.
It also has a plentiful 1920×1080 resolution, rather than the 1366 x768 pixels that many cheaper laptops have. Plus, its contrast is an impressive 1261:1 so there's none of the slightly grey, washed out look of lower contrast displays.
The screen of course isn't perfect, with colour reproduction being not as accurate as more expensive laptops, but it's still fine for all but professional content creators.
The only caveat really is the maximum brightness. At 267nits it's just a touch low, making the screen less easy to see when used in really bright conditions.
At the opposite end of the scale, the lack of backlighting on this laptop's keyboard means typing in the dark is a bit tricky, even with the light of the screen helping out.
But otherwise the keyboard is perfectly decent. The layout is spot on and the key action, while a little light and slightly uneven, is defined enough that touchtypers should have few issues.
Meanwhile the trackpad can hardly be faulted with its smooth metal surface making for easy gliding, while its touch sensing and click action are responsive and accurate. It's not up there with the very best but it's far from the worst.
You also get a basic 720p webcam and fingerprint reader both of which get the job done.
As for battery life, Acer claims 10 hours but in my tests with the screen set to a sensible brightness level of 150nits, it only managed six hours 38 minutes. Reducing the brightness right down will get you slightly longer life but other more expensive laptops achieve closer to the 10 hour mark at the same brightness tested here.
Still, around 6-8 hours is probably enough for most people and is still a decent effort for a machine this size and price.
So far so impressive then, but this laptop does have an achilles heel, which is performance.
The Intel Pentium N4200 at the heart of this machine just isn't very fast. While it is a quad-core chip so technically can multi-task reasonably well, any single task is held back by its slow clock speed.
Likewise, the flash memory storage here, while noticeably faster than a hard drive, is some way slower than the SSDs in more expensive laptops.
The combined effect is one of everything just feeling a little sluggish. Boot time, app loading times, interacting with graphically rich webpages, it gets the job done but it lacks the snappy feel of faster machines.
If you're someone that is happy to take things a little slower and who mainly wants a laptop for typing out essays, reading the odd webpage and watching video then it's fine. However, if you're more of a demanding multitasker or you want to dabble in things like photo or video editing then it's simply not the right choice.
Overall, though, Acer has a winner on its hands. For its price the Swift 1 offers a really compelling combination of great design, a decent screen, good overall usability and just enough performance to get by.
Buy now:
UK: http://amzn.to/2v4X0Y9
US: http://amzn.to/2vV7cFF