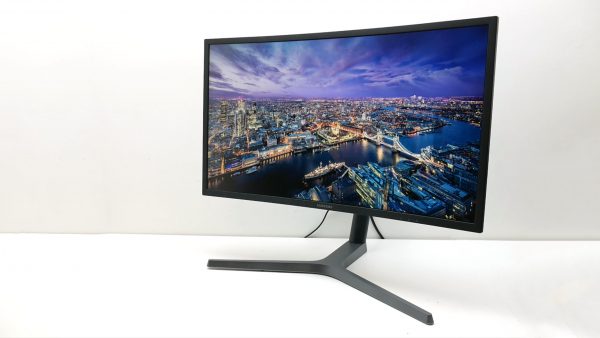 The world's first HDR gaming monitor
Samsung CHG70 review
Most monitors inherently have an element of compromise too them. Poor viewing angles, bad image quality, a slow response time, crummy gaming performance, an ugly design or a high price… there's always something that holds them back from true greatness.
With the CHG70, though, Samsung might have finally cracked it.
This 27-inch display packs in just about every feature you could imagine. You've got a 144Hz refresh rate, a 1ms response time, it's curved, it's got Freesync, It's got backlight strobing, it looks great, oh, and it's the first gaming monitor to do HDR.
Samsung CHG70 video review
At £600 or so, it does still demand a high price, but all that lot for £600 is potentially something of a bargain, if it delivers on its promise.
First things first then, this is a great looking bit of kit. Much like with Dell's gaming displays, Samsung has avoided going the garish gamer route. Instead it uses muted, matt grey plastics and a stand design that's simple and elegant.
There's something particularly appealing about the slim stand, the 1800mm radius curve to the panel and the folded over armature that works really well together. You also get a cover for all the ports, which makes things look even tidier when connected up.
The only thing missing is a super low profile bezel. The one here is fairly narrow and sits only a couple of millimetres proud of the display but it can't quite match the hidden bezel of the likes of the Dell S2417DG.
The one little adornment is a ring of blue light that emanates from the rear of the display. This is suitably subtle, though, and it can be turned off if it's not to your liking.
Samsung also includes a conversion kit for if you want to use this display with a wall mount. You've got to remove the ring that covers the light, undo four screws and attach the converter. A secondary effect of removing the cover for the ring is that is shines a bit brighter, giving a nice splash of colour on the wall behind.
The stand also offers all the usual adjustments, and they're noticeably smoother than on most displays, making it really easy to move around.
One oddity with this display, though, is its height adjustment. It pivots on an arm, rather than going straight up and down. Not a problem per se but it means you end up having a display whose stand is really deep. If you have a wall behind your desk you may find space is a bit restricted in front of it.
Connectivity, meanwhile, is decent but not outstanding. You get a DisplayPort 1.4 and two HDMI 2.0, so all your video inputs are HDR ready, plus you get a USB 3.0 hub and audio pass-through. However, the USB hub only has two sockets, both of which are hidden behind the plastic cover, so they're no good as a convenient place to quickly plug in a USB stick.
It's all good when it comes to this display's menu system though. Like Asus it uses a little joystick to navigate and the OSD itself is really easy to get to grips with. It's kind of odd that Samsung chose here to crank up the gamer styling, with the turquoise lettering and sharp angles but in practical terms it's all good.
I particularly like that the dials along the top give you a quick overview of the gaming readiness of the display – about to jump into a gaming session? Just quickly open the OSD and you can see that you're running at 144Hz, Freesync is on etc. The only feature missing is HDR, which is buried in the Information section.
As well as the joystick there are three buttons on the underside of the frame which you can assign to different configurations of the menu options. This is a really neat feature that means you can quickly switch between having the monitor setup for desktop work or gaming, without the need to jump into the menus.
So that's all the ancillary stuff, but really the most exciting thing about this monitor is its display.
It's a 27-inch VA LCD panel with a 2560 x 1440 resolution, all of which is nothing particularly exciting. However, it's all the extra stuff that Samsung has crammed in that completely changes its performance.
For a start, it uses quantum dot technology for creating its three backlight colours. This enables the display to shine brighter and produce a wider gamut of colours, which is crucial for HDR.
The display also has a contrast ratio of a massive 3000:1. Now, contrast ratio has long been the big selling point of VA panels, and sure enough I have seen displays that hit similar figures before. However, this is the first fast refresh rate VA panel I've seen to reach such heights.
As well as just bringing normal content to life this is again important for HDR. The HDR10 standard that's used for HDR Blu-rays specifies that images can be mastered for use with up to 20,000:1 contrast displays, so we're some way off that, but 3000:1 is still a nice improvement over the 1000:1 of typical TN or IPS gaming displays. Plus, in HDR mode, Samsung says this display employs a degree of localised backlight dimming to create an even higher dynamic contrast ratio. However, it hasn't specified how many different backlight zone there are or what level dynamic contrast it can achieve.
What really transforms this display, though, is the fact that it manages to overcome the inherent problem with VA LCD panels, which is a slow response time. Previously gaming VA monitors I've reviewed have suffered from ghosting and smearing to such an extent as to render them fairly useless.
However, Samsung has got round this in two ways. First, Samsung has seemingly created a panel that just has better response time. I say seemingly as Samsung won't specify the native response time of the display but only the Motion picture response time, which is a measure of how response time is perceived. Regardless, even in its Standard response time mode, it's a big improvement over any other VA panel I've used.
What's more, Samsung has also fitted a strobing backlight to this display. By flashing the backlight off momentarily inbetween each frame, the slow response of the pixels is hidden, making for even less visible smearing and an even sharper image.
All this adds up to being the first VA-based gaming monitor I can actually recommend. It has the snappy feel and sharp image that you need for fast-paced games like competitive first person shooters. It doesn't quite compete with the latest TN monitors that run at 240Hz, or 144Hz with backlight strobing, but it's the equal of most 144Hz IPS models, and for all but the very most elite players that's good enough.
You also get Freesync, though sadly this can't be enabled at the same time as the backlight strobing, which is why it's doubly good that the native response time of the panel is good enough to get by.
Moreover, what small compromise there may be in gaming performance is more than made up for with excellent image quality.
For a start, I like the curve of this display. It's by no means essential, especially as this isn't a massive super-wide monitor, but it does improve viewing angles towards the edges and draws you in just that little bit more.
What's more, Samsung calibrates every monitor before it leaves the factory so right out of the box it looks just about as good as it can, and it can look very good. It's bright, has incredible contrast and colour balance is perfect.
Occasionally colours can look a touch oversaturated as this is a slightly higher gamut monitor than usual but largely it isn't a problem.
It's also an impressively even image, with just an average 2.5% variation in brightness across the whole the panel.
Viewing angles are also good, and far surpass any TN gaming monitor, though they're not quite on a level with IPS displays. Moving left to right there's almost no change but sit close to the display and you do notice a slight change in brightness between the top and bottom of the screen.
All told, though, you're getting image quality that far surpasses any TN gaming monitor and is at least on par with most IPS gaming monitors too. If you're a professional working in either the sRGB space or AdobeRGB then the slightly inbetween colour gamut used here means you might be better off with a more typical professional monitor but for most users the CHG70 strikes a really good balance.
All of which brings us to HDR. The extended colour gamut, relatively high contrast and high 600nits maximum brightness (that's only available in HDR mode) combine to make HDR look pretty good.
Colours look more true to life, there's more detail in brighter and darker portions of the image and there's just generally a greater sense of depth to images. It's early days for HDR on PCs but I see little reason why this display won't hold its own for years to come. Only much more expensive monitors with OLED panels or LCD panels with proper full array local dimming are likely to surpass it.
However, right now, there's not really enough content out there that works on a PC to make it that compelling a feature.
All the HDR video that the likes of Netflix have made available doesn't playback via web browsers and only a handful of games work. Plus there's the fact that Windows support is currently kinda messed up. Thankfully any HDR content played back via blu-ray players or consoles works fine via the HDMI inputs, but in terms of PC use, HDR is a more of a nice to have feature for the future, than the big selling point that Samsung may have hoped for.
Instead, it's everything else about this display that makes it so compelling.
The design, overall image quality and gaming performance is enough on its own to make this monitor more than hold its own against similarly priced gaming displays. The HDR is just the final flourish.
Quite simply, this if one of the best all-round gaming displays you can buy.