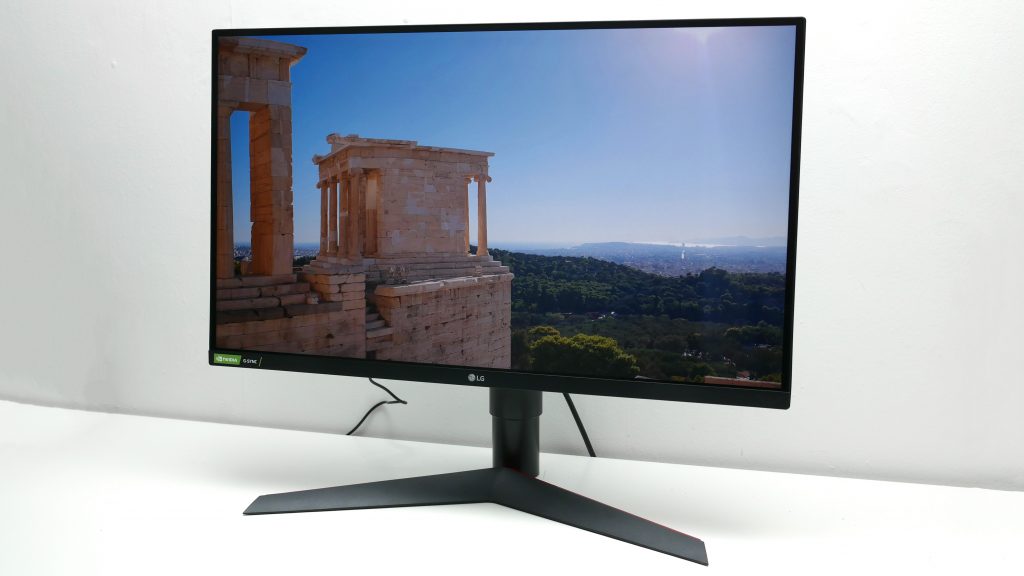 The LG 27GL850 kickstarted the 1ms IPS gaming monitor market
LG 27GL850 review
The LG 27GL850 caused quite a stir when it first arrived back in 2019, as it was among the first gaming monitors to feature a new faster 1ms response time IPS panel, and thus provide better gaming performance than IPS displays of the past. Plus it supports both Freesync and G-Sync and it was competitively priced compared to existing G-sync capable, 27inch IPS gaming monitors. Since it launched, though, several other models have arrived that include all the same features and cost about the same, so does it still hold up?
LG 27GL850 specs
Screen size: 27inch
Resolution: 2560 x 1440
Panel type: IPS
Maximum refresh rate: 144Hz
Response time: 1ms
Inputs: DisplayPort 1.4, 2 x HDMI 2.0
Stand adjustability: Height, Pivot, Tilt
Adaptive sync: Freesync and G-Sync
Extras: VESA mount
Speakers: No
LG 27GL850 video review
Well, when it comes to build quality and styling, the LG isn't the most impressive I've seen. The stand and base just have a plastic cover, rather than the nice solid metal stands you get on some models. The little flashes of red plastic on the base and round the back of the display also look a bit cheap and don't really add much to the overall look. The way all the connectivity just projects directly out the back of the display is an untidy solution too, even if it does make it easy to plug things in.
All that said, this is still largely a smart looking monitor with slim bezels round the edges, a nice slender stand and nothing too garish going on. If you're not a fan of extra RGB lighting, you're in luck too, as there isn't any here.
One odd feature, though, is the lack of rotation in the stand. For a display to offer height, tilt and pivot but not rotation is very strange and is actually more of an annoyance than you might think. Particularly if you're desk is fairly cramped, it's a pain to have to lift up the whole thing just to reach round the back. Also, the connection to the stand doesn't feel all that robust, so I'd be a little concerned that it might get damaged with all that lifting and moving. Thankfully, there's a 100mm VESA mount, so you can just use a monitor arm.
For connectivity, you get a typical selection for a display of this type, with one DisplayPort and two HDMI, along with a two-port USB hub. I'd prefer an internal power supply rather than having to have another power brick but it's not a big deal.
Setting up the display is simple, with the base just screwing onto the stand and the stand clipping into place. The onscreen display is also very easy to use, with the single mini joystick control on the underside providing a convenient and precise means of navigation and the menus are intuitively laid out. The bar across the top of the OSD that shows the frequency, adaptive sync, HDR and response time is also a really useful quick reference to make sure the display is running as it should.
You also get all the options you should need to setup the display as you like, including comprehensive controls for colour balance, gamma and response time. Like most displays, the latter is best left at its Fast rather than fastest setting, to avoid too much inverse ghosting.
However, there is one crucial setting that is missing from the OSD, which is a dedicated means of turning off this display's extended colour gamut. You see, like the Viewsonic XG270QG, this display can produce a wider range of colours than normal, in order to provide a pseudo HDR image, and in fact the display supports the HDR10 standard. But it's pointless. Unless your display has a costly multi-zone backlight like the Asus PG27UQ, HDR is not worth the bother for PCs, and the extended colour gamut just ends up making colours look over saturated.
LG does offer an sRGB mode that reduces the colour range but it has very poor colour balance and locks out all the other picture adjustment controls, other than brightness, so you can't correct it.
What's more, this display's contrast and black level performance are a little disappointing. Other displays in this class can produce deeper blacks resulting in up to 1200:1 contrast, whereas this model only managed 700:1 contrast. For a display that supposedly does HDR, that's really bad.
Thankfully, just about everything else about this display is top notch. Its 1440p resolution is a great match for the 27inch size, viewing angles from the IPS panel are excellent and gaming performance is everything you'd hope for. The 144Hz refresh rate, which isn't overclockable to 165Hz like on some displays, combines with the 1ms response time and g-sync to provide a very responsive, smooth experience. It's still not quite as snappy as the best TN gaming displays, but it's more than good enough for most and a noticeable improvement over previous fast refresh IPS displays.
All told, then, while the LG 27GL850 is still a decent display, other similar models are simply better, providing higher contrast, costing less and including that all important ability to turn off the extended colour gamut.