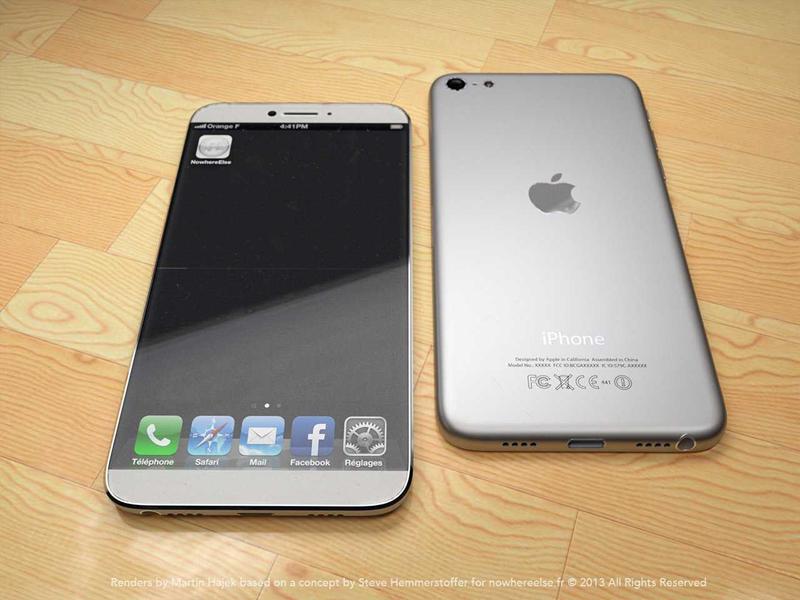 The iPhone 6 is expected to be the next handset in Apple's iPhone line. Following Apple's usual alternating numbering scheme, with us having had an iPhone 5 then iPhone 5S and 5C, the next logical step is the iPhone 6.
Also tying in with the idea of a new number is that the new handset is expected to feature a radical design change, moving from a 4inch display to a 4.7inch one. Various leaks have also suggested it will feature rounded sides akin to the current iPod touch.
It is also expected that there will be some sort of low cost followup to the iPhone 5C. Whether that is simply an updated 5C or whether it also will have a larger screen there appears to be far less information to tell yet.
iPhone 6 Screen
The biggest expected change with the new iPhone 6 will be a move to a 4.7inch screen sporting a resolution of 1704 x 960 pixels. This compares to the 4inch 1136 x 640 pixel display of the iPhone 5/5S/5C.
This is a lower resolution than the flagship phones of other handsets. Although the HTC One M8 and Samsung Galaxy S5 have slightly larger screens, the origianl HTC One had a 4.7inch screen and it still managed to pack in a 1080p (1920 x 1080) resolution.
Apple isn't expected to change from using LCD for its panel technology, as opposed to OLED as used on Samsung's flagship phones. As such it will likely maintain its accurate colours and strong brightness performance, though loose out in darker conditions where the pure blackness of OLED really shines – making the Galaxy S5 great for watching video.
One new addition that is rumoured to be appearing in the iPhone 6 screen is quantum dot technology. This uses light filtering nano particles to split up light into the RGB components used to create multi-colour images. The use of these particles potentially improves colour reproduction and reduces the light loss through normal filtering techniques, saving power usage.
iPhone 6 Processor
The iPhone 6 is expected to be powered by the new Apple A8 processor when it launches later this year. This isn't expected to bring a huge performance boosts compared to the iPhone 5S' A7 CPU but will instead focus on lowering power usage and thus boosting battery life.
iPhone 6 Operating System – iOS 8
The latest revision of iOS is expected to debut on the iPhone 6. iOS 8 will bring several new health centric features as well as some overall UI modifications.
iPhone 6 Camera
Little has been speculated about the iPhone 6's camera, however there are a few clues. Various mockups and leaked images only feature a single hole for the camera and another for its dual-LED flash, suggesting there won't be any dual camera gimmicks here, unlike on the HTC One M8 and Samsung Galaxy S5.
Disappointingly the opening for the camera doesn't appear to be any bigger than on previous models, suggesting the lens and sensor won't be any larger. However, there's a good possibility that the new model will sport a small resolution bump to perhaps 10 or 12MP, just to keep tabs with the competition. That said, with HTC still pursuing its barmy 4MP Ultrapixel camera technology, it's quite possible Apple will stick with its tried and trusted 8MP camera.
iPhone 6 Home and Screen Lock Button
At least one source is suggesting the iPhone 6 will feature a side mounted screen lock button, as can be seen in the image of a steel case-forming mockup, which clearly shows nothing on its top but holes in the side.
There is also talk of the Home Button being on the side, but this seems far less likely.
iPhone 6 Release Date
iPhone launches are generally fairly predictable events, with them seldom veering far from an annual occurrence. As such it is currently expected the iPhone 6 release date will be around September or October, given the iPhone 5S launched on 20 September 2013.
The latest reports suggest an exact iPhone 6 release date of 19th September 2014 – a year to the day of the iPhone 5S launch – after Deutsche Telekom apparently had its call centre encourage customers extend their contracts until this date.
Apple is generally very good about having products ready to launch so the announcement is likely to only be a couple of weeks before products hit shop shelves.
iPhone 6 Review
As soon as we've seen and heard more about the iPhone 6 we'll be adding our first impressions, hands on impressions and a full iPhone 6 review.
iPhone 6 Pictures
A host of images of iPhone 6 renders, mockups and machining parts have cropped up over the last few months, giving various hints as to its design. Nearly all support the theory that the phone will be larger and a fair few suggest it'll have rounded sides too. Of course these could all be of the new iPod touch or just completely made up, but there's reason to believe in some of the hype.
A selection of leaked images is shown below.