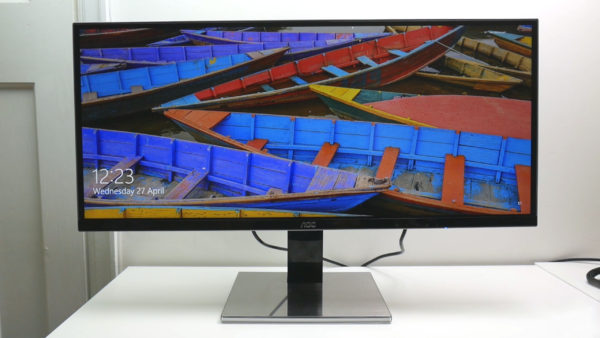 A great value massive, widescreen monitor
AOC U3477PQU Review
The AOC U3477PQU is a massive 34in ultra-widescreen monitor with a top-notch IPS panel that should ensure it has excellent image quality. What's more it forgoes the curve of some alternatives and instead includes a fully adjustable stand and comes in at a lower price, making it arguably an even more tempting choice.
Like the Philips BDM3490UC that I looked at recently, the thing that is initially most striking about this monitor is its design. It's lack of a curve means it doesn't quite have as much of an impact as the Philips but its use of the same sort of display panel that has these very thin bezels that sit behind the front pane of plastic make the whole thing look more slender than a typical screen.
This is then set off nicely by an elegant, brushed metal base. The rear of the screen has a slightly plasticky quality to it but overall it still looks the part and largely feels well put together.
What's more this is a practical design too. The stand is height adjustable such that the top of the screen runs all the way from 500mm up to 627mm, and the screen can be rotated to sit in a portrait position, which makes it far easier to plug cables in, if nothing else.
You can even opt to remove the stand altogether and use the standard 100x100mm VESA mount with a 3rd party monitor stand. However, while this is useful it does mean that putting the monitor together in the first place isn't as simple as some.
Connectivity is not spectacular but all the bases are covered. You get one each of VGA, DisplayPort, HDMI and DVI, plus there's an audio input for the speakers and headphone socket for those moments when you want to listen in private.
Audio from the HDMI and DisplayPort inputs is dealt with automatically but you'll need the audio-in if you're using DVI or VGA.
One slight issue is that the ports are quite low down so it's difficult to bend the cable out of sight without putting strain on the plugs and sockets.
On the side there's a USB port with two USB 3.0 ports and two USB 2.0 ports. However, rather oddly, the input for the hub is also on the side, which is a slightly awkward place when it comes to cable management.
Speaking of which, there's just a simple plastic clip on the back of the stand to take care of that.
Aside from struggling with putting the stand together, setting this display up is simple enough thanks to the default configuration being pretty much spot on. All I needed to do was move from the Warm colour temperature to the Normal colour temperature and drop the brightness to about 40 and it was pretty much ready to roll.
However, like the AOC C3584FQ, it's annoying that you can't adjust brightness in the sRGB mode as that's even better than the Normal colour preset when it comes to colour accuracy.
In fact, the onscreen menu system as a whole is a bit clunky. The five buttons on the underside of the screen for controlling it are fine but the way they don't particularly relate to what's being shown in the bizarrely massive and pixelated menus means it's a bit slow and cumbersome to move around.
Again though, like with the initial setup of the stand, it's a fairly minor inconvenience in the grand scheme of things.
All of which brings us to the display itself. It measures 34in from corner to corner and has an ultra-wide 21:9 aspect ratio with a resolution of 3440 x 1440 pixels. That provides an ideal 109 pixels per inch, meaning you won't have to use Windows scaling tools to make everything a sensible size like you do with really high resolution screens, and nor will you have to sit further back to stop things looking pixelated like on the C3584FQ.
It's an IPS panel too so viewing angles are excellent. In fact, that's pretty much the best word to describe every aspect of this display's image quality. Colour temperature and Gamma are bang on while the claimed 1.07billion colours it can display make for a Delta E of just 0.7. That means this monitor can differentiate between very small differences in colour, in turn making it very colour accurate.
It should be noted it isn't actually AdobeRGB capable, though, so those working with print quality workflows will have to look elsewhere. But for purely digital workflows and just general day to day computing, gaming and multimedia it's excellent.
It's maximum brightness of 280nits is also ample for bright environments, while the matte finish of the front panel means reflections aren't a problem.
There are two potential areas where it's less impressive though. The first is a fairly minor point, which is that its contrast ratio is just 892:1. That's still close enough to the 1000:1 mark that I'd normally expect of a monitor like this, and I certainly didn't notice the display looking grey and washed out at all but for instance the Philips BDM3490UC managed 1100:1.
A far bigger problem, though, is that input lag is high. In fact it's also weirdly inconsistent, with my input lag tester showing that it varied from as low as 24ms all the way up to 50ms. Taken as an average that gives us an input lag of 35ms, which is two whole refreshes of this 60Hz monitor.
So not only is this not a high-speed 144Hz gaming panel to begin with but you're also getting an extra dollop of delay from that input lag.
As such this simply isn't a good choice for competitive gamers. If you're just playing single player FPS or slower paced games like RTS, RPGs and that sort of thing then it'll be fine but for those games that require split second reaction times this screen will put you at a distinct disadvantage.
One final thing before I wrap up is the speakers, which are as ropey as I've come to expect. They get to a reasonable volume but they sound tinny and weak and have a particularly harsh shrill quality when pushed.
All told then, this is a great monitor. Yes it's quite expensive, with a price tag of just under £500, but right now it's just about the cheapest way of getting such a large and high quality screen with a fully adjustable stand, and the few issues I do have with it are minor, so long as gaming isn't your first priority.
Buy from Amazon
UK: http://amzn.to/1tgApWY
US: http://amzn.to/29mjFWN