MSI Optix MAG271CR review
|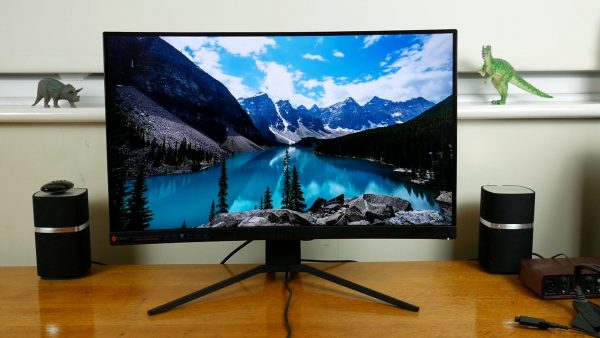 27-inch, 1080p, 144Hz and 3000:1 contrast!
MSI Optix MAG271CR review
The MSI Optix MAG271CR is a 27-inch gaming monitor with a 1080p resolution, a 144Hz refresh rate and Freesync, which doesn't sound like the most exciting monitor so far. However, it has a few extra features that make it stand out from the crowd.
MSI Optix MAG271CR specs
Screen size: 34inch
Resolution: 3440 x 1440
Panel type: IPS (AHVA)
Maximum refresh rate: 100Hz (120Hz overclocked)
Response time: 4ms
Inputs: DisplayPort 1.4, HDMI 2.0
Stand adjustability: Height, rotation, tilt
Adaptive sync: G-Sync
Extras: 4 x USB 3.0, LED underlighting, carry handle on stand
Speakers: 7W stereo, and they're very good

MSI Optix MAG271CR price
The MSI Optix MAG271CR price is $380, making it quite expensive for a 1080p gaming monitor.
MSI Optix MAG271CR video review
First up is this display's use of a VA-type LCD panel that provides a claimed 3000:1 contrast ratio. That's three times what you get from more common IPS or TN type monitors.
And in fact, according to our tests this display comfortably out performs that claimed figure, hitting 3755:1. That's one of the highest native contrast ratios I've ever seen. Only displays that use clever variable backlights do better.
This results in a display that has a real vitality and dynamism to its picture. HDR is the current buzzword in monitors and this display is the closest thing I've seen to a true HDR like level of contrast from an LCD monitor, without it using a variable backlight.
Another key feature of this display is that it boasts a high colour gamut. What does that mean? Well, instead of sticking to the sRGB colour range that's standard for PCs, this display goes beyond that, resulting in brighter, more vivid colours. Bright greens, in particular, really pop.
Now, a high colour gamut is another feature of proper HDR. The whole point of HDR is to support higher contrast and more vivid colours for a more realistic, dazzling image.
But the weird thing is, this display doesn't support HDR. So if you feed it a proper HDR signal with all the extra colour and contrast data that tells the display how to show that image properly, it can't do it. Instead, it just stretches a normal, non-HDR signal out to these wider limits.
Not only does that mean you don't ever get a true HDR experience but it also means you're always left having this overly bright, colourful image. And while it's nice to have a fun, dazzling image some of the time, other times you want a display to show an image as it should be, such as when editing images or videos or you actively want a lower contrast such as when reading or working on the desktop.
Not that the image here is unusable in those scenarios, but it's not ideal.
What's more, if you really do mainly just care about games and video and are quite happy to always have a big bold image then there's another problem to consider. Because this display uses a VA-type LCD panel its response time is slow.
Compared to IPS or TN panels, and even some other more recent VA panels, this monitor has a far slower response, resulting in more ghosting and a softer overall image that's more difficult to use for competitive gaming.
To try and counteract this MSI has added a backlight strobing blur reduction technology. This flicks the backlight on and off with each frame, creating the illusion of a quicker response time. It works too, with the image in Blurbusters' motion blur test being considerably sharper.
The problem is, this mode massively reduces brightness. This display drops from an already fairly modest 287nits to just 70nits.
What's more, the gaming performance it delivers still isn't amazing. A standard 144Hz, 1ms TN display still out performs it.
The final iffy aspect to this display is that its default colour balance isn't all that great. Its colour temperature is higher than it should be, resulting in a slight blue tinge to the image.
All of which is to say this isn't a bad monitor. It just depends what you're after. If you want just a dazzling, fun image that adds a bit of life to games and video, and you're not too fussed about the ultimate gaming performance then its fine. The colour balance isn't that bad and colours still like good, just not quite as accurate as they should.
Viewing angles are good too, as is the uniformity of the image.
I'm even a fan of the slight curve to the screen and the overall design. From the front it's all muted greys and blacks, with a nice elegant solid metal base.
Round the back you get a bit of the dreaded glossy plastic but it's still reasonably smart. You even get some RGB lighting.
I'm also rather a fan of the app that lets you control the monitor's settings. It's quicker and easier than having to use the monitor's physical controls.
That said, the OSD on this monitor is also fantastic. The mini joystick control and menus work perfectly together and there are plenty of options for tweaking the image.
You even get a pop out headphone holder, a height and tilt adjustable stand and a decent selection of connectivity, with two HDMI ports and one DisplayPort.
Nonetheless, overall this monitor just doesn't quite feel like it has got the whole balance right, at least not at its current price. There are just two many other screens that either offer better overall image quality, including a higher resolution, or better gaming performance for less.
MSI Optix MAG271CR Image Quality pre calibration
Max Brightness: 287nits
Contrast: 3755:1
Colour Temp: 7892K
Gamma: 2.27
sRGB: 98.6%
DCI-P3: 85.6%
Delta E Ave: 0.1
Delta E Max: 1.14
MSI Optix MAG271CR Image Quality post calibration
Contrast: 3842:1
Colour Temp: 6539K
Gamma: 2.19
sRGB: 99%
DCI-P3: 84.7%
Delta E Ave: 0.1
Delta E Max: 0.72