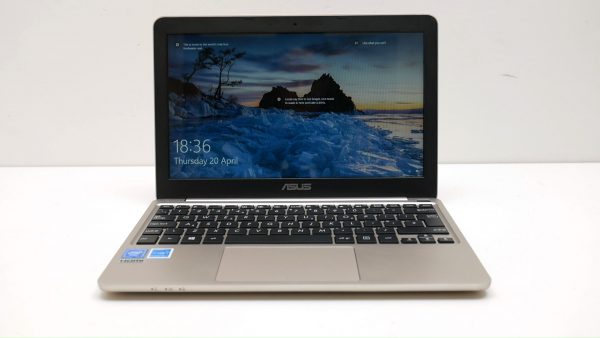 A budget laptop, ideal for travellers
Asus E200HA review
The Asus E200HA is a slim and smart looking 11in laptop that costs just £200 or 200 US dollars.
Inevitably at that price there's plenty of compromise here but for its price this is in many ways an impressive little machine.
For a start, it looks great. The metallic paint job and contrasting matt black of the screen surround and keyboard work really well together while the slim construction means that at a glance it could easily be mistaken for a machine that's two or three times the price.
Also helping with the look is that this laptop is cooled without fans so not only does it never make a sound but the outside isn't broken up by ventilation grilles.
Asus E200HA video review
Of course it's all just plastic and in fact this review sample already has quite a few scratches on it. But look after it and it should stay looking this good for some time.
What's more, as well as being impressively slim, this laptop is very light, weighing in at just 980g or 2.2lbs.
You also get a reasonable selection of connectivity. Certainly it's enough for the sort of use a modest laptop like this will be put to. You get a microSD slot, microHDMI and USB 3.0 down the left edge and a headphone jack and USB 2.0 on the right.
The microSD is less convenient than full-size SD but it's easy enough to use a microSD to SD adapter for your camera and the microSD disappears fully into the laptop so potentially you can use this to permanently expand the laptop's storage.
As for the screen, it's ok but clearly has its limitations. It's a TN panel so has poor viewing angles, plus it has a resolution of just 1366 x 768 pixels. Although that may sound low, on an 11.6in screen it's fine. It'll make working on big spreadsheets less fun but means you don't have to faff around with Windows scaling options to get text and icons to a readable size.
Nonetheless, it should go without saying that this screen is only really good enough for basic computing work and one person watching video – those viewing angles mean this isn't a screen to share. Also, on almost every measurable metric it struggles. You won't get any better for the money but just be aware that you are compromising much more on screen quality as compared to an Android tablet of the same price, for instance.
Where a tablet can't compete, though, other than them not having full access to all your favourite Windows apps, is when it comes to typing. The keyboard here wipes the floor with just about any tablet keyboard. The layout is perfect and although I can't vouch for its longevity, out of the box the key action is fine.
The trackpad is also pretty good. Tracking is accurate and it's a large enough that you're not constantly having to reposition your finger as you move around. The click action is a bit stiff but overall it's frustration free, which is all you can really ask for at this price.
The same can't always be said of this laptop's performance, though.
You get an Intel Z8300 processor, which is quad-core so may sound impressive but it runs at a slow clock speed so really is only good enough for the basics. Even a single ad-heavy webpage or something like an anti-virus app or Windows update running in the background can cause it to chug.
Certainly not helping is the modest 2GB of RAM, while potentially a deal breaker for some, is that you get just 32GB of onboard storage. It's solid state storage so is faster than a hard drive but it's far slower than a typical SSD and once Windows has been accounted for you get less than half the storage available for you to use.
Other areas where you really notice the cost cutting are the webcam that is just VGA resolution and has a choppy framerate, plus the speakers are particularly weedy.
At this point you may be thinking this is all a compromise too far but the E200HA has one key feature that pulls it right back into contention. And that's battery life. This thing lasts a whopping 11:42 on a single charge.
This, combined with its incredibly low price makes this laptop potentially ideal for backpackers, or anyone travelling light who just wants to be able to get the basics done without fear of running out of juice and to be safe in the knowledge they won't have thrown away too much money if it gets lost.
However, for students or those just looking for a cheap every day laptop you're probably better off with a slightly larger, faster model. You might have to spend half as much again, or even double, but you will almost certainly appreciate the extra speed and storage capacity.