Acer Predator X27 review
|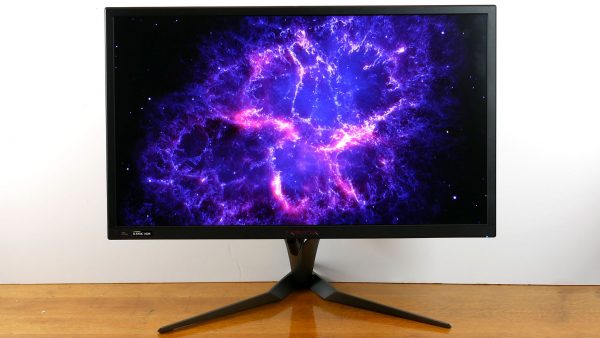 HDR, 4K and 144Hz make this one of the finest gaming monitors.
Acer Predator X27 review
The Acer X27 is the big rival to the Asus PG27UQ. These two 27-inch gaming displays both feature the same 144Hz, 4K IPS LCD panel and the same dazzling 384-zone backlight that enables them to be the only monitors you can buy to offer 4K at 144Hz and a true HDR experience. However, along with a £200 difference in price there's plenty that distinguishes these £2000 gaming monitor titans.
Acer Predator X27 specs
Screen size: 27inch
Resolution: 3840 x 2160
Panel type: IPS (AHVA)
Backlight: Full array local dimming with 384 zones
Maximum refresh rate: 120Hz (144Hz overclocked)
Response time: 4ms
Inputs: DisplayPort 1.4, HDMI 2.0
Stand adjustability: Height, rotation, tilt
Adaptive sync: G-Sync
Extras: 4 x USB 3.0, LED underlighting, carry handle on stand
Speakers: 7W stereo

Buy now: Amazon.co.uk, Amazon.com
Acer Predator X27 video review
The first difference is the styling. The X27 has a fairly muted look with the majority of it sporting a simple brushed or speckled black plastic finish that's nicely complemented by a dark metallic grey base and stand. Those grey bits are all made from solid metal too, giving the whole thing a reassuring sense of quality. In comparison the PG27UQ is far more garish.
Of course, what sort of gaming peripheral would this be without a bit of extra RGB lighting and sure enough you get two lighting zones here.
On the back of the display, there's a strip of light hidden in the top ventilation grille and round the front there's a row of lights on the underside of the screen. The colour and brightness of these can be changed and all manner of effects added, plus there's a mode that has the colour of the lights match what's on screen.
Unfortunately, on our review sample the lights on the underside seemed to be damaged such that they only shone through some of the holes. This meant you couldn't really see the lighting in a normally lit office room.
Regardless, both lighting zones make for nice subtle additions that I was quite happy to leave on all the time, unlike with the far more outlandish lighting on the PG27UQ.
Something the X27 shares with the Asus, though, is that you miss out on the thin and low-profile bezels you see on many modern screens, so the both displays have a slightly chunky look to them.
Acer puts some of that bulk to good use though with the addition of an anti-reflective hood. Three flock lined plastic panels screw on to the sides and top of the display and help to ensure any surrounding lights don't get in the way of your viewing pleasure.
It's the sort of thing we normally see reserved for either professional monitors for image editors working in bright offices or competition level gaming displays where privacy and a lack of distractions is key. And, neither of those situations really applies here. It's quite nice to have as an option but if it excluding it meant saving £50, I think most would've preferred the saving.
Potentially more useful is a light sensor that's built into the top of the display. This can be used to automatically adjust the brightness of the monitor, saving you the hassle of jumping into the OSD menus throughout the day and night. Again it feels far from essential and it seems a little aggressive, often making the screen darker than I'd normally go for, but it's a nonetheless a nice addition.
Back to the stand and it offers height, rotation and tilt adjustment but doesn't offer pivot, so you can't easily spin the display round to plug in your cables, unlike with the PG27UQ. Also, the rotation only moves 20 degrees to the left and right, which is less than usual and again makes it a little more difficult to reach round the back. At least you get a carry handle on the top so it's easy to manoeuvre in that way.
Speaking of connectivity, this is all hidden behind a removable plastic panel and consists of one DisplayPort and one HDMI, along with the power input. Off to the side there's also a USB 3.0 hub with two ports on the back and, getting one up on its rival, there's a further two ports on the side of the display, where they're easy to reach.
Around the top of the stand are a couple of plastic pieces that can be unclipped to reveal the 100x100mm monitor mount that can be used to attach alternative stands, and below this is the fan that keeps the sophisticated backlighting system cool.
Both the X27 and PG27UQ have fans and they've proved to be quite the point of contention for many buyers. My experience has been that I can't hear the fan noise of either monitor over that of the PC that sits next to my monitor. The ambient noise level where I sit is around 32dB and neither monitor rose above that.
However, if you do have a particularly quiet room the noise will be noticeable all the time so it simply depends what your tolerance level is for such things. Certainly if it was my only concern with these displays, it wouldn't be enough to put me off buying them.
Elsewhere round the back of the X27 are its OSD controls. Just like the PG27UQ these consist of a power button, three navigation buttons and a mini four-way joystick.
The buttons feel really good – better than those on the Asus – and the OSD menus are nice and responsive too. By and large the menus are intuitively laid out and easy to use, with just a handful of key settings to watch out for.
In the picture menu you've got Peak white, which is your main brightness setting and that goes all the way up to 500nits for non HDR content, there's also the auto brightness option and you can you can turn on the variable backlight for SDR content. This provides a boost in contrast thanks to the 384 zone backlight but without adding in the extended colour range of proper HDR. It's great for adding a bit of dynamism to non-HDR games and movies, though you'll want to turn this off for general desktop use.
In the colour menu, you'll also want to make sure SDR colors sRGB is set to on so that non HDR colours don't look oversaturated.
Jump into Gaming and the Over drive setting offers off, normal and extreme modes. You'll want to stick with normal to get the best balance of ghosting, sharpness and inverse ghosting. Here you can also overclock the display from its default 120Hz up to 144Hz. This worked fine for this sample and overclocking didn't affect image quality in my tests.
Overall, I found it quick and intuitive to get the display setup just as I wanted.
However, there's one crucial thing to note about this display, which is that its default image quality isn't quite as good as it could be.
In the default warm colour temp setting the screen is in fact not warm enough plus its default gamma is a touch high as well. To correct the colour balance I switched to the user color temp and changed the RGB values to 50x48x45. I also tried the -0.3 gamma setting but this was too low so I switched back to default and relied on software calibration to pull this into line.
In isolation you're not going to notice either of these slight discrepancies but considering the price of this display, I'd expect it to arrive with near perfect calibration. The Asus PG27UQ I reviewed fared slightly better in this regard, though there's no guarantee that'll be the case for all samples.
Otherwise, my overall impressions of the image quality and general performance of this display are basically the same as they were for the Asus PG27UQ. So if you want to find out all about just what the 4K resolution, the 144Hz refresh rate and the 384 zone backlight are capable of then take a quick look at that review and know that the same applies here.
In short, 4K HDR video and gaming looks amazing. Nothing else available now and for the foreseeable future comes close to delivering the same experience thanks to that 384 zone backlighting being able to show nearly 1000nits of brightness right next to less than 0.1nits.
However, all the same caveats apply too. 4K is kind of a pain as it's super taxing on your graphics hardware, Windows scaling can make it look a bit odd sometimes and it just feels unnecessary on a screen this size. Likewise, the screen's gaming performance is great but it's not quite as good as other 144Hz IPS monitors, let alone the very fastest 1ms TN monitors.
As such, the overall takeaway for both these screens is that it's all about HDR. That's the big selling point here, and until we see some other screens offer full array local dimming backlights, the X27 and PG27UQ are the only way you're going to get that experience. So the key question to ask yourself is whether that experience is worth over £2000, and from my point of view it just isn't. There simply isn't enough HDR content available to really justify it right now.
But, if you are still interested and can afford to spend that amount of money on a first gen product then of course there's still the question of which one of these displays to get. And for me, in the neater styling, more practical RGB lighting, the useful additions of a carry handle, anti-reflection hood, auto brightness feature and side USB ports and the lower price all add up to the X27 being the one I'd go for.
Acer Predator X27 Image Quality pre calibration (non variable backlight)
Max Brightness: 452nits
Contrast: 1071:1
Colour Temp: 6752K
Gamma: 2.29
sRGB: 97.2%
DCI-P3: 69.4%
Delta E Ave: 0.34
Delta E Max: 1.92
Acer Predator X27 Image Quality pre calibration (with variable backlight)
Max Brightness: 438nits
Contrast: 4572:1
Colour Temp: 6769K
Gamma: 2.25
Acer Predator X27 Image Quality HDR
Max Brightness: 955nits
Min Brightness: 0.03nits
Contrast: 31852:1
Acer Predator X27 Image Quality post calibration (non variable backlight)
Contrast: 1025:1
Colour Temp: 6508K
Gamma: 2.2
sRGB: 98.8%
DCI-P3: 96.0%
Delta E Ave: 0.25
Delta E Max: 1.95