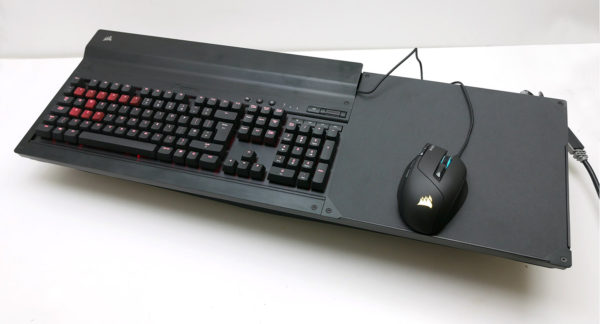 The ultimate sofa gaming solution?
Corsair Lapdog review
The Corsair Lapdog aims to solve the problem of how to control a PC while sat on the sofa, without having to resort to using cramped all-in-one solutions or balancing everything on planks of wood or coffee tables.
With the Lapdog it's all integrated into one device that provides a stable and comfortable platform that even makes it possible to play demanding games.
Corsair Lapdog video review
It consists of a cushioned lower section, which can be removed for easy cleaning and replacement, and a top section into which your keyboard is placed and a mousemat is integrated. It also includes a USB 3.0 hub for charging your phone or plugging in a USB memory stick to share data with your PC.
The whole thing is then connected to your PC via a single very long USB 3.0 cable. So, yeah, it's not wireless but then for that proper PC gaming experience you don't want to be introducing the lag that wireless technologies bring.
All those wires do make getting everything assembled a rather involved process though. You've got to use the provided allen key tool to remove the various plates that cover the top then you plug in the keyboard and mouse, stuff in all their cables and cover the whole lot back up, making sure to leave enough cable for the mouse so it can freely move around on the mousemat.
For optimal use Corsair then recommends you use the supplied power adapter, which will ensure your keyboard and mouse, and any devices attached to the USB hub have enough power. However, I found this wasn't needed with just the keyboard and mouse so you can potentially get away without having to find yet another plug socket.
In terms of build quality, I'm very impressed with the Lapdog. Its main section is built from sturdy, thick black plastic, with metal mounts inserted for the bolts. Corsair has also continued its tradition of using aluminium on its peripherals, with all the top plates being thick slabs of the stuff. This includes the mousemat, which has a tough plastic mousing surface on top. You could also add a fabric mousemat if you prefer.
The bottom section is a bit flimsy but the padding is very soft and I like that it attaches with magnets.
There are some other neat touches too, like the little storage space for the allen key tool and raised edge on the bottom and right side of the mousemat that prevent your mouse sliding off.
However, the flipside to this build quality, and the overall idea of being able to use a full-size keyboard, is that the Lapdog is seriously big and heavy, weighing in at nearly 4kg when fully loaded.
Despite this, though, it is incredibly comfortable on the lap, with the thick foam padding easily cushioning its weight. What's more it stays impressively stable, making it a genuinely viable way to play intense games likes first person shooters.
All is not perfect, though. For a start the lack of a wrist rest, or any space for one, means you're left having to keep your hands raised all the time. Yes, it's how we should all type anyway but in reality many of us are used to having a wrist rest.
Also, I found that to type comfortably I had to have the Lapdog positioned really far to the right, which put it almost at the point of being balanced on my right leg. This will vary depending on how you like to have your keyboard and mouse positioned, but if you're used to having the keyboard mostly directly in front, then it could take some getting used to.
Otherwise, the Lapdog really does work. You can type with speed and comfort, and game with all the pace and freedom of movement that's required to be competitive. It hasn't entirely convinced me that gaming sitting 5m from my TV is better than sitting 50cm away from my monitor but at least the option's there.
Priced at £110, it is expensive though, considering you need to also buy a keyboard and mouse. That applies double as, without some serious modding, it's really only compatible with Corsair's premium K65 and K70 keyboards, though you can use any mouse.
Nonetheless, given the good build quality and the fact that it does its job impressively well, it's definitely worth consideration.
Buy from Amazon
UK: http://amzn.to/28Ux70E
US: http://amzn.to/29ml0Na