Samsung S34E790C review
|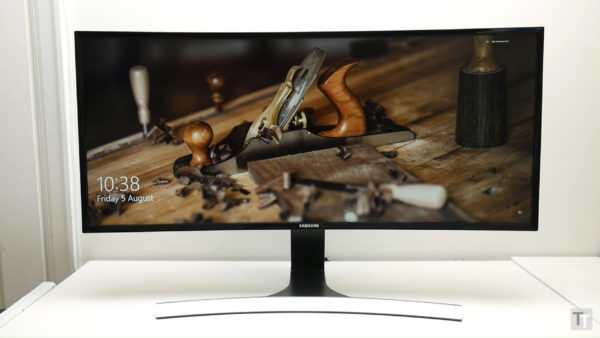 Great contrast makes this an ideal TV/monitor hybrid
Samsung S34E790C review
The S34E790C was one of the first ultra-wide 34in curved monitors on the market but it's only now I've had a chance to review it. Equipped with a VA type LCD panel rather than IPS it's chief advantage over its IPS rivals should be better contrast, so let's see how it holds up.
First things first. This has to be one of the smartest looking monitors of its type. A simple but slender black stand is fronted by a wide silver foot that elegantly curves round in an arc that matches that of the screen. The sides of the panel have a nice brushed metal finish and the back has a brushed black plastic finish, and surrounding the panel are impressively slender bezels, though they're not of the super-slim borderless variety, as on the Acer X34, for instance.
Samsung S34E790C video review
There's nothing particularly premium in the design but it's just a nicely combined set of colours and textures that comes together to create a far more elegant form than many of its rivals. The only slipup is those bezels are glossy so can catch the light.
Also, one outright oddity is that the display can't swivel left to right. Why odd? Well because it does offer height and tilt adjustment, and it's not often you get both of those without the third option as well. Also, the height adjustment is particularly stiff, so it's far from an effortless affair to get it setup just right.
Connectivity comes in the form of one DisplayPort and two HDMI. Not a plethora but it's one more socket than on G-Sync-based alternatives. There's also a four port USB 3.0 hub and a headphone jack, plus a slide off section on the back of the stand offers a degree of cable management.
Also to be found on the back is the control system for the onscreen display. Like Asus, Samsung has used a joystick to move around the menus, making for a quick and intuitive way of getting things done.
There isn't a wealth of options on offer but, beyond choosing the right colour option and changing the brightness there isn't too much need to use it, as this isn't a monitor packed with extra features.
When it comes to image quality, the first thing to note is this panel offers the same basic experience as other 34in ultra-wides. You've got a 21:9 aspect ratio, a light anti-glare surface and a resolution of 3440 x 1440 pixels, resulting in 110pixels per inch, which is what I consider perfect for a computer monitor.
Otherwise the difference between this and IPS and TN panels is immediately obvious. Most notably, you don't get the annoying colour distortion when viewed off-axis as you do with TN. But it can't match IPS for overall wide viewing angle performance, with there being a more obvious change in contrast when viewed off centre.
However, this display out does both IPS and TN alternatives for overall contrast, thanks to impressively low black levels. As a result this panel is the best of the bunch when it comes to watching video as there is little more important than a low black level when it comes to making movies really pop. Indeed it's why I recommend VA LCD TVs over IPS, but I digress.
The crucial thing here, though, is that you only really get to appreciate that performance when you sit back a little from the display. From around 50cm away the sheer size of the screen means that the viewing angle variance is enough that you start to see a greying out of the picture round the edges. From about a metre away, though, the angles are narrow enough that it becomes completely uniform and looks fantastic.
Of course, contrast isn't the only important measurement. You still want accurate colours, and thankfully the S34E790C delivers those too. In fact on almost every image quality front it's pretty decent right out the box.
It's Delta E score does betray the fact that it isn't quite the best at picking out fine changes in colour but largely this isn't noticeable in use.
To get the best from it I had to drop the green and blue channels down about 5 points and switch to the thirds gamms mode, but you could certainly get away with using it unadjusted.
It's also a reasonably uniform panel with no particularly obvious backlight bleed. Plus, even though it's only a 60Hz panel, its input lag is only 10.9ms, which is about as good as you can get for a non-gaming panel.
When all is said and done, though, there isn't quite enough here to put this ahead of IPS models, at least when it comes to general desktop work and gaming, as they tend to have just slightly more accurate colours and better viewing angles up close. Particularly as this is actually slightly more expensive than many rivals.
However, if you want a monitor that doubles as a TV screen, the high contrast of this panel puts it at the head of the pack. Especially as the speakers here are impressively powerful too, though admittedly not really powerful enough for a proper cinematic experience.
Either way, it's great to see an alternative option to IPS even if it isn't the best option for most.
Samsung S34E790C specs and price
Screen Size: 34in
Panel type: VA
Resolution: 3,440 x 1,440
Ergonomic Adjustments: Height, tilt
Panel colour depth: 8-bit
Colours: 16.7 million
Video connections: 1 x DisplayPort, 2 x HDMI
Other connections: 4 x USB 3.0
Curved?: Yes
Dimensions:
Weight:
Extras:
Samsung S34E790C image quality tests