Creative T20 Series 2 review
|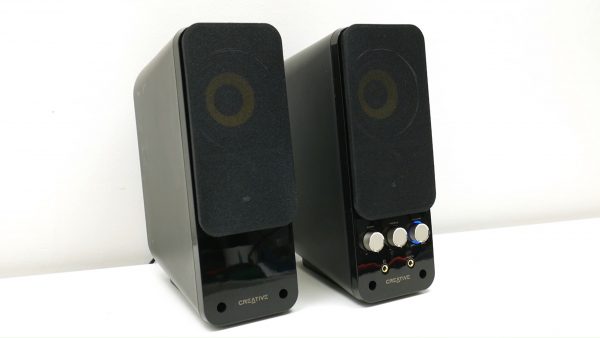 Still the best budget PC speakers you can buy
Creative T20 Series 2 review
The Creative T20 speakers have been around for ages but they're still among the best PC speakers you can buy. Relatively compact but powerful and costing just £60, they're markedly better than even cheaper truly entry level speakers but yet they're still really affordable.
Their appeal starts with their design. Although all plastic the simple backwards sloping shape and combination of finishes looks great, and the little yellow ring of the bass driver's cone is a nice touch.
You can also choose whether to keep the speaker cover on or show off the drivers in all their glory.
Creative T20 Series 2 video review
As for build quality, it's very good. Thick plastic is used throughout, making them very sturdy, and experience has shown they pass the test of time.
Features wise, the right speaker is where all the action's at. On the back you get the power socket, connection to the left speaker and the main audio input while round the front is a second input, a headphone jack (which automatically mutes the speaker when in use), the volume come power control and bass and treble knobs.
It's a simple selection but it's one that means these speaker slip in effortlessly to a typical PC setup. Plus, unlike the cheapest of speaker sets, most of the connections are detachable so a broken cable is easy to replace.
The only possible issue is that some might prefer the controls and extra sockets to be on the back or side so they don't clutter up the front, but there are pros and cons to both arrangements.
It's also notable that these are fairly large speakers for their price. They're much larger than the Bowers and Wilkins MM-1 for instance and dwarf the satellite speakers you get with many 2.1 or 5.1 speaker systems. It's not like you'll struggle to find space for them but portable, they're certainly not.
As for sound quality, being a 2.0 set, you don't get a sub woofer but you still get plenty of bass warmth – just not quite the hard hitting thump that bass lovers might want.
What's more, these speakers have a fantastic mid-range presence that not only brings to life vocal, guitar and piano driven music but works great for games and movies too.
In contrast, 2.1 speaker systems of this price tend to offer a bit more of a bass hit but less high-end detail and they have a distinct dip in the mid-range that can make music sound a little hollow.
Meanwhile, compared to much more expensive 2.0 speaker sets you do miss out on the very highest detail levels and sheer power, but for the money these are fantastic.
All told then, these are categorically the best PC speakers you can get for the price. Stretch your budget to £100 and you can get better but for £60, they're a steal. Fans of dance, hip hop and other bass driven music may prefer a 2.1 system but for daily listening across a wide variety of genres these are as good as gets.
Creative T20 Series 2 Specs
System Configuration: 2.0 system
Dimensions: 88.0 x 143.0 x 230.0 mm (3.46 x 5.63 x 9.06 inches)
Cord: Approx 1.5m
Connector Type: AUX-in, Line-In
Color: Black
Drivers: 2-Driver Design