TP-Link Talon AD7200 802.11ad WiFi router review
|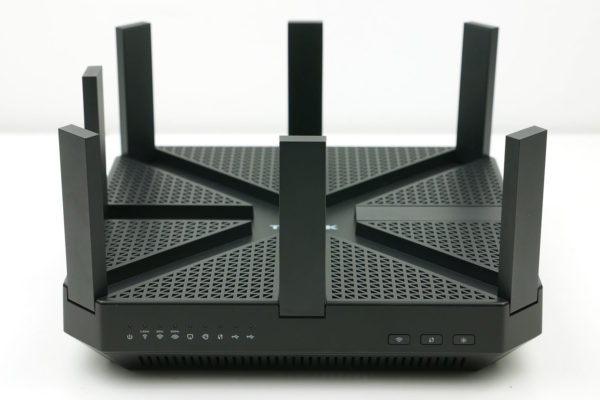 The fastest router ever, thanks to 802.11ad WiFi
TP-Link Talon AD7200 review
The TP-Link Talon AD7200 is the first router you can buy to include WiFi AD. This incredibly fast new WiFi standard uses the 60GHz frequency band and can theoretically transfer data at up to 4600Mbps. That's nearly three times faster than the very fastest WiFi AC and six times faster than the very fastest WiFi N.
However, it has one fairly major downside, but we'll come to shortly.
First let's take a look at the rest of the router.
TP-Link Talon AD7200 video review
Along with that all important AD capability it features one 5GHz band for AC WiFi and one 2.4GHz band for all previous versions of WiFi. This is joined by four gigabit Ethernet LAN ports, an Ethernet port to connect to your modem and two USB 3.0 ports that can be used to share printers and USB hard drives or memory sticks.
In essence, then, it's a fairly typical modern, high-end AC router but with the addition of AD.
Powering all those wireless signals are nine antennae. You get eight flip-up external ones and an internal one. Notably, though, non can be removed, unlike with some high-end routers, so replacing broken ones or upgrading them, isn't an option.
The router has quite a large footprint, so won't exactly fit unobtrusively on a shelf, but it's not ridiculously bulky or unsightly. Plus, you get the useful addition of a full complement of status lights on the front to indicate what's going on with the router, and a button for switching them all off if they're too distracting.
This is joined by another couple of buttons for activating WPS and for switching WiFi on or off completely.
Setting up the router is a cinch thanks to a comprehensive and easy to follow wizard, which you can also just choose to ignore and dive right into the menu.
You get two views, with the basic tab offering the key options for changing WiFi and admin passwords, viewing a network map, setting up basic USB sharing options and choosing some access restriction options.
Jump into the advanced menu and you've got a host of extra options. There's nothing too outstanding here but there's nothing obvious missing either. Just about any top-end router will offer the same sort of features.
That said, there is one feature that I'd have liked to see, which is band steering. Often called Smart Connect, this combines all the WiFi signals into one SSID, leaving it up to the router to decide which band to use to connect to your device. It's a really useful addition that I would consider essential on a complicated tri-band router like this. TP-Link says it's going to add the feature with a firmware update but who knows when that'll arrive.
So we come to performance and we'll start with the sort of tests we can easily compare to other routers. Setting the router up in a ground floor front room I tested WiFi speeds in that room from about 2m away, then in the kitchen about 5m metres away with one brick wall inbetween and then in a 1st floor office around 10m away, with two walls and a floor in between. I measured overall throughput with LAN Speed Test, using both the 2.4GHz and 5GHz bands.
And, I found the TP-Link Talon to be decent if not record setting. It'll be a big leap over routers that are two or three years old but is only on par with other modern AC routers. I also tested transfer speeds from shared USB storage, and again it was pretty average for this calibre of router.
So, this router really is all about that AD WiFi, and its one big downside. You see, while most previous WiFi standards can stretch for 10s of metres or hundreds of feet, WiFi AD has a very short range and cannot go through even one brick wall.
This only really makes it useful for a few niche applications where it wouldn't otherwise just be easier to use a cable.
Nonetheless, the speeds are impressive. On average I measured download speed from the router to be 898Mbps. That's nearly double the fastest AC WiFi I've ever tested, and it's quite possible that speed was being held back by the gigabit Ethernet ports. Still, overall, it's difficult to get particularly enthusiastic about a wireless technology with such a limited range.
All of which means, that with a retail price of £350 the Talon AD7200 just doesn't feel like good value. You're getting basically the same feature set as any other £150 router but with a new WiFi technology that's of next to no use right now. Of course it's likely that other AD routers will be just as, if not more, expensive but then it's likely I'm not going to recommend any of them either. Maybe this time next year they might be a more tempting proposition.