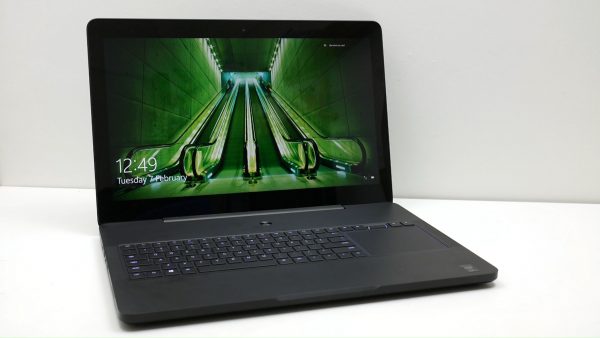 The ultimate desktop replacement gaming laptop
Razer Blade Pro review
The Razer Blade Pro is on paper everything you could want from a desktop-replacement laptop. It packs in masses of processing power, it has a great screen, it's got a mechanical keyboard and it's all wrapped up in a fantastic looking and surprisingly slim all metal chassis.
The question is, does all that add up to it justifying its starting price of £3500?
Well, Razer has certainly got the first thing right, which is design. This is a fantastic looking machine that puts all other 17inch desktop replacements to shame. The unibody black anodised aluminium chassis looks stunning and has a wonderfully smooth finish. Plus, all the details are spot on. The machined metal power button, the hidden in the hinge ventilation, the tiny strip of protective rubber that runs round the edge of the screen. Everything is of the quality you'd expect given the price.
Razer Blade Pro video review
Sure, the green Razer logo on the lid might not be to everyone's liking but I think it works rather well.
What's more, much of that aluminium is milled from solid billets which makes the panels far stiffer and stronger than those made from sheet metal that's been pressed into shape.
So far, so very Macbook Pro, but Razer hasn't followed in Apple's footsteps when it comes to connectivity. You do get one Thunderbolt port for all your fancy futureproof fripperies but then you also get three normal USB 3.0 ports, an SD card slot, a full size HDMI 2.0, gigabit Ethernet and of course a headphone jack so all your existing kit should work with this laptop straightaway.
Sadly, you can't charge over Thunderbolt, though considering how powerful this laptop is the power supply is surprisingly compact.
Razer hasn't scrimped when it comes to the screen either. The 17.3inch IPS panel has a 4K resolution, allowing for incredible high resolution gaming as well as more practical uses such as being able to see all the detail when you're viewing or editing pictures and video.
As ever this will require you to use Windows resolution scaling settings to actually make the desktop useable most of the time, and as ever, it mostly works but Windows can trip up every now and then and make some apps look wrong. But, that's just the price of 4K on a screen this size.
Otherwise the screen is utterly class-leading in terms of quality. It can reach a searing 410nits maximum brightness, yet can still produce inky blacks at the same time, resulting in an impressive contrast ratio of 1260:1. The colour temperature is also as good as most people will need it to be, so there's no need to adjust the colour balance to get things looking right.
The Delta E of just 0.2 is also fantastic, showing this display can pick out the very finest differences in colour. What's more it can also produce the full 100% of not just the sRGB colour space but Adobe RGB as well. That means it can truly claim to be a professional quality display.
Oh, and also, the display has G-Sync, and it's a touchscreen. Take that Macbook pro.
As for powering the games you'll want to run on this screen, Razer has thrown everything into this machine.
Okay, so the Intel 6700HQ is actually a relatively old chip now – there are laptops from 2015 that use it – but it's still very fast with good power consumption figures. Plus, it's ably assisted by 32GB of RAM and a choice of either a 512GB, 1TB or 2TB SSD that's of the fast PCIe NVME variety and configured in RAID 0. Which is actually kind of pointless, and has it's downside, but I'll let it slide.
Then of course, there's the Nvidia GTX 1080 graphics card that's crammed into the back of this machine.
The whole combination makes mincemeat of whatever you throw at it. At the display's native 4K resolution it'll just about run the likes of Deus Ex ManKind Divided, Fallout 4 and The Witcher 3 at 30fps even on the highest detail settings. Drop the resolution or the detail settings a touch and it'll motor along at well above 60fps. There's some contention about whether it fully achieves peak GTX 1080 performance but, honestly, that last few percent of performance is the least of my concerns about the overall value this laptop provides.
Meanwhile, for any non-gaming tasks, it'll power through those too.
All this it does while remaining not lap burningly hot, though it certainly doesn't remain quiet. In normal use it's near silent but when gaming it is straight up loud. Pro tip, get a ventilating laptop stand, or raise the back a touch to greatly aid airflow and slightly reduce noise.
So, clearly this is a monster of a machine but not all is well.
Another standout feature of this laptop should be its keyboard that uses a unique low-profile mechanical switch. The switches make all the right clicky noises and initially feel markedly more crisp and responsive than a normal laptop keyboard but in use the whole thing doesn't feel quite right. There's a slight inconsistency to the click and, and I know this is going to sound odd, but it's almost too easy to press them. This combined with the lack of any contouring on the keys means it's rather difficult to feel your way around the keyboard resulting in plenty of typos.
Add in that the layout is a little cramped, and that for those in the UK, you also miss out on a proper UK layout, and touch typists could potentially find this keyboard takes some getting used to.
Then of course, there's the fact there isn't a number pad. Not too many users will miss it but for those regularly entering numbers into a spreadsheet – ah hum, benchmark results, it's a bit of a shame.
And then there's the RGB backlighting, which I find has a peculiar flickering affect where if you move your eyes quickly, such as you do when glancing down at your keyboard, you can see the individual RGB colours that make up the combined colour. I found it off-putting enough that I switched the backlighting off completely.
As for the trackpad, set off to the right of the keyboard, it kind of works, though I certainly didn't find I fully got used to it during my time with it. Otherwise, in terms of performance, it's as good as most premium trackpads. Its etched glass surface is super smooth while tracking is perfectly tuned and the click action is crisp. I know Linus Tech Tips reported having a few issues with the trackpad on their review sample but I didn't encounter any of these.
Meanwhile, the key benefit of having the trackpad here is that it leaves room for a large 99Wh battery to fill the entire wrist rest area.
Not that this results in particularly impressive batter life, mind. Certainly if you were hoping for Macbook pro levels of battery life, you'll be disappointed.
So the Razer Blade Pro has had a couple of slip ups but has largely impressed so far. However, there are a couple of key factors to consider before I wrap up.
The first is size and weight. Although impressively slim and far more portable than most 17in laptops, this is still a big and heavy machine. It's hardly a fair or direct comparison but it's still reasonable to think that some people might consider this an alternative to a 15inch macbook pro, and that they could cart it around with them just about anywhere in the same way. But that isn't really the case. This really is still a true desktop replacement machine.
Then of course, there's the price. Which is reasonable considering everything that this machine offers but it would've been nice to have a slightly less maxed out option. A non-RGB keyboard, 16GB of RAM, a smaller SSD, a GTX 1070. Whatever it takes to allow you to have this quality of machine with this display and this connectivity but maybe starting at, say, £2500.
Meanwhile, for just pure desktop replacement performance there are several alternatives out there that offer a lot more for the same money.
All of which means that if I did have £3500 to spend on such a machine then I would be tempted by the Razer Blade Pro. It definitely gets enough right to earn that. But I would also think long and hard about exactly what I'd use it for and whether a smaller more portable machine or an even larger, more powerful and better value machine would suit me better.